My Company's Computer Burned in a Fire at Home: Am I Covered?
July 27, 2020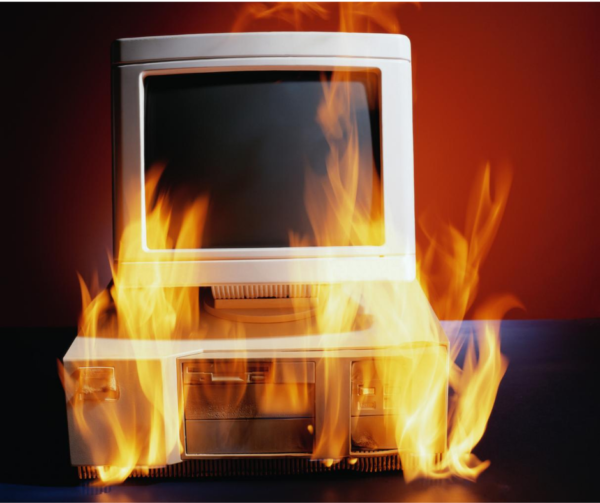 We have the feeling that working from home will become standard for many businesses even after the COVID-19 shutdown. And employees are starting to understand the advantages:
No commute, saving time with less stress.
More productive work as interruptions from other employees eliminated.
For employers it's:
Saving rent expense with less office space.
Efficient office with fewer employees.
More work done by undistracted workers at home.
But what if something happens to the business equipment in your home?
Does Your Home Insurance Cover You and Business Equipment at Home?
Property
Most homeowners insurance policies in New York State do provide some coverage for business property. For the property used to conduct business at home—laptops, desktops, printers, fax machines, etc—the coverage amount is $2,500.
For business property away from the home it's just $250.
A word of caution on the computer equipment. Power surges that damage equipment at home aren't covered. Neither is damage from dropping the laptop or the dog running into it and having it crash to the floor.
Liability
Another important business exposure you or your employer face is liability. This is coverage if you are sued by a third party. Your homeowners policy responds if you damage another person's property, cause them bodily injury, or are sued for libel during non-business pursuits.
But it specifically excludes business liability. Paraphrasing from the policy:
Coverage E – Personal Liability and Coverage F – Medical Payments to Others do not apply to bodily injury or property damage arising out of business pursuits of any insured or the rental or holding for rental of any part of any premises by any insured.
It also doesn't cover liability, "arising out of the rendering or failing to render professional services…" Most of these liability exposures faced by a remote worker would be covered on the business insurance of their employer.
But there is a problem. What if a customer visits the remote worker at their home? And that customer trips and falls on the premises. That customer could sue the remote worker as owner of the property where the fall occurred. But as you can see above, the homeowners insurance excludes business liability. So there is no defense costs or liability coverage for this incident.
Also excluded is damage from cybercrime such as phishing, ransomware, or botnets. In these cases, valuable information about the business and its clients can be stolen. The business can be sued for data breach.
We represent A+ rated insurance carriers who protect you and your employer with cybercrime and liability insurance against these perils. But don't look to your homeowners insurance for the same protection.
Our Insurance Recommendation for Remote Workers
If you work for an employer at a home office, here's what we recommend. To cover your liability exposure, have your employer add your premises to their property and cyber insurance as an additional location.
Do the same for your data processing equipment. Your furniture at home would be covered for the perils in the policy up to $2,500. That's for such things as fire, theft, wind, or water damage.
We've discussed in this article remote employees. What if you run your own business from home? We can help you with a home business insurance policy.
Thinking of starting a home business? Take a look at our article full of helpful tips. Also we discussed tips on working better at home.
Upshot: If you're working at home, make sure your employer has you covered.
Until next time,
Your SZW Team
SZW Insurance is your Utica area Trusted Choice™ independent insurance agent. Call us for a quote on insurance for your home, car, business, or life at 315.792.0000. Or request a quote here. In Westchester County call Zak Scalzo at 914.246.0315 or email at zaks@szwinsurance.com.