Thruway's Cashless Tolls Coming to Utica, Westmoreland, Herkimer
August 4, 2020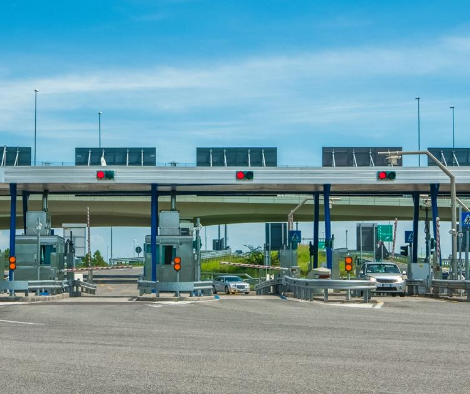 E-Z Pass on the New York State Thruway has been around a long time. Since August 3, 1993 to be exact. By early 1997 it was installed at every on- ramp and exit. That's on 426 miles of road from New York City to Buffalo.
Now the Thruway Authority is going a step further. They're improving the E-Z Pass by converting to cashless tolling. The schedule is to convert the whole of the Thruway to a cashless system by the end of this year (2020).
The way it works is that motorists drive under a gantry that reads your E-Z Pass tags. A gantry is a structure with a platform overhead that holds antennas, sensors, and cameras. You won't have to stop to pay a toll.
E-Z Pass customers with New York accounts get a 5% discount. If you don't have E-Z Pass, your license plate image is captured. Then a bill gets mailed to the registered owner of the vehicle.
This is a $355.3 million project. And it is largely complete here in the Mohawk Valley. According the Utica Observer Dispatch July 24, 2020, gantry structures have been installed at the Utica, Westmoreland, and Herkimer exits.
However, this doesn't mean they are operational. The system will go live all at once by the end of 2020. Until then people can use the current E-Z Pass system. And fair warning. You will put up with lane closures and traffic shifts while the system is being constructed.
Speaking of E-Z Pass, the Thruway Authority recommends it over Tolls by Mail as an easier payment method. As E-Z Pass drivers know, you automatically deposit $25 in your account and tolls are drawn from that.
What about the current toll plazas? After cashless tolling is operational, the Thruway Authority will begin dismantling them. And realigning the exit/entrance ramps.
You might be wondering, what about all of those toll collectors and their jobs? Will they all be laid off? The answer is yes. But there has been help for them since this new system was announced in 2018. The Authority has provided resources to toll employees to guide them in their future careers. And a number of toll collectors are eligible for and choosing retirement. We wish them well.
We see cashless tolling as a great step forward for New York State. We've all experienced the long lines at the toll gate on busy summer weekends. We welcome scooting through without missing a beat.
And to get an E-Z Pass just click here to open your account. Now is as good a time as any to get on board.
Until next time,
Your SZW Team
SZW Insurance is your Utica area Trusted Choice™ independent insurance agent. Call us for a quote on insurance for your home, car, business, or life at 315.792.0000. Or request a quote here. In Westchester County call Zak Scalzo at 914.246.0315 or email at zaks@szwinsurance.com.