Thinking of Starting Your Own Business?
August 6, 2019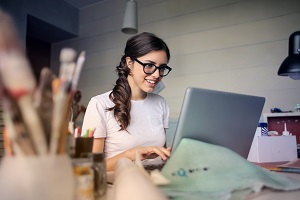 The internet allows businesses to scale their products and services like never before. No matter how big…or small…the niche, it is much easier now to connect. That's because online, your customers are looking for what you offer. They actually find you.
Do you think you have a product or service that people would pay for? If so, you're probably thinking of starting your own business. So we went to the
U. S. Small Business Administration (SBA) for advice. We found a helpful guilde, "10 steps to start your business." Let's summarize 6 of these valuable tips plus add one more of our own…the insurance.
We suggest you visit the SBA page above for lots more info on starting your own business.
How to Get Into Business for Yourself
1. Conduct Market Research
Realize that it's often harder than you think to get people to part with their money to buy a product or service. Make sure there is a desire for your product and that your audience has the money to buy.
Also, are there similar options for potential customers out there? If there are, how is yours better?
2. Write Your Business Plan
Here you're writing the "book" about your business. Include your story in the plan. This will help you get thinking about how you'll market your products/services.
Tell your readers your mission, your product/service, and basic information about your company's leadership team, employees, and location. Be specific about the problems your company solves for customers. Explain your unique selling proposition: why customers should buy from you and not the competition.
Include your financial position and financial projections. If you're looking for funding, outline your funding requirements.
3. Fund Your Business
Based on your business plan, figure out how much money you'll need. You can self-fund or try the many banking and financial services companies, including an SBA loan.
4. Choose a Business Structure
The legal structure you choose affects your operations, taxes, and how much your personal assets are at risk. In New York State, there are six legal structures for businesses:
Business Corporation
Not-For-Profit Corporation
Limited Liability Company
General Partnership
Limited Partnership
Sole Proprietorship.
Get your situation evaluated to determine the best business structure that both protects you and is best for your bottom line.
5. Choose Your Business Name
Pick a name that reflects your brand identity and makes it easy for prospects to figure out what you do. If that isn't possible with your entity name, think about getting a DBA (Doing Business As). This is also a good place to consult with a business attorney who will do an availability search and register your business name as required by New York State.
6. Get Your Federal and State Tax ID Numbers
These are your Employer Identification Numbers. You need these to open a bank account, pay state and federal taxes, hire employees, and apply for business licenses and permits. Your accountant or attorney can help you with these.
7. Get Insurance
This is where we come in. We offer business owners policies, commercial property and liability, and commercial auto plus Workers Compensation and DBL/PFL for your employees.
Owning a business is a lot of work, but your attorney, accountant, and banker are all there to help. And when it comes to the insurance give us a call. Once we get to know your business we'll shop all of our A-Rated carriers to get you the right protection for the best price.
Enjoy the freedom and rewards of owning your own business!
Until next time,
Your SZW Team
SZW Insurance is your Utica area Trusted Choice™ independent insurance agent. Call us for a quote on insurance for your home, car, business, or life at 315.792.0000. Or request a quote here.