What You Should Know After Your Home is Flooded
September 7, 2021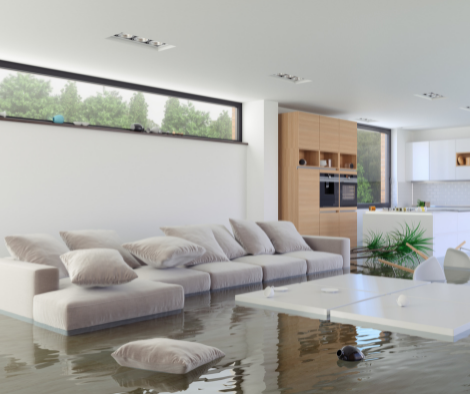 Flooding is the new normal here in the Utica, New York area. That may be from climate change. Or new construction over the years. Be that as it may, more and more of us are experiencing the devastating effects of flood damage to our property.
What if that is you? What should you do after a flood to protect your family and home? We consulted the Insurance Information Institute for some advice. Here's what we found:
Note: Flood IS NOT COVERED on your homeowners insurance. You must have a National Flood Insurance Program (NFIP) policy in place to get coverage. Call us and we'll give you a quote. The references to insurance below assume you have flood insurance.
How to Protect Your Family After a Flood
Don't go into your home at all if the flood waters are over the first floor.
If you are walking through your home, wear thick shoes. And be alert. You may not see what critters are below the water, including poisonous snakes.
Don't eat any food that has come into contact with flood waters. Throw it all out!
Be very cautious of fire hazards such as broken gas lines or flooded electrical circuits. Or flammable or explosive materials coming from upstream.
How to Protect Your Home After a Flood
Look for cracks in the foundation and other evidence of flood damage.
Don't pump out your basement all at once. Thing is, the wet ground outside may cause the floors to buckle and the walls to collapse. So remove about one-third of the water per day.
In addition, be on the lookout for falling walls and plaster that the water may have weakened.
Make temporary repairs. For insurance purposes, keep all receipts.
Take photos of damaged property and make notes. Use these to help your insurance agent and adjuster assess the damages.
Hire reliable contractors to make repairs. Don't be rushed into signing repair contracts.
For anyone who has been through it, we think they'd agree that flood damage can be as severe as a fire. And the repair bills can be astronomical.
But as we said above, your homeowners policy does not cover damage caused by flood. However, flood insurance is available. And, as we've pointed out before, surprisingly affordable, depending on the flood zone you live in.
As we here in the Mohawk Valley know, you don't have to live near the coast to experience a flood. And just a few inches of water can cost thousands of dollars of damage.
So call us today to find out how much flood insurance would cost on your home. You'll rest easier knowing you're protected from the ravages of our Utica area rain storms and the flooding they bring.
Until next time,
Your SZW Team
SZW Insurance is your Utica area Trusted Choice™ independent insurance agent. Call us for a quote on insurance for your home, car, business, or life at 315.792.0000. Or request a quote here. In Westchester County call Zak Scalzo at 914.246.0315 or email at zaks@szwinsurance.com.