Surprising Facts on Floods & Flood Insurance in New Hartford, Whitesboro, Clinton & the Utica Area
March 10, 2015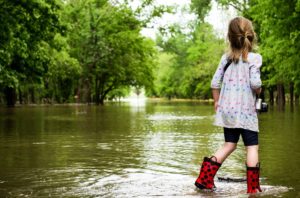 We don't need to tell you that flooding here in the Mohawk Valley has reached major proportions. In all of our years here at Scalzo, Zogby & Wittig, our insureds have never experienced as much flooding as they have in the last few years.
Major storm systems don't just sprinkle an hour's worth of rain anymore. They stay over the area dumping water for days, reeking havoc, especially in the lower parts of the valley. Just ask people in Ilion, Little Falls, and Mohawk about the last two years and they'll tell you they'd rather forget them. But, of course, because of the damage these floods have caused, they can't forget.
Many are looking to New York State for disaster relief. And nationally to FEMA (Federal Emergency Management Agency). Their problem is that flood is NOT a covered peril on their homeowners insurance policy. That doesn't mean that flood insurance isn't available or affordable. In fact, there are many myths about flood insurance floating around that we'd like to address here.
The National Flood Insurance Program (NFIP) has a terrific website where we got the info below. We're offering it to you with some of our own comments. We think you'll be surprised at many of their findings.
Here we go…
Flooding is the most common natural disaster.
Anywhere it can rain, it can flood. We certainly agree with that here in the Mohawk Valley in recent years. Point is, you don't have to live near a coastline to have a flood. Flash floods, inland flooding, and seasonal storms bring flooding to every region of the country.
Just a few inches of water can cause tens of thousands of dollars in damage. Foundations, contents in the lower parts of the house, exterior damage all contribute to the amount of loss.
Most homeowners insurance does not cover floods.
Only flood insurance financially covers your home and your personal property from floods. This is so important for you to know. In the past, floods weren't such a problem. In fact, the only people who used to request flood insurance at our agency did so because their bank or financing company demanded it. As you'll see below, this isn't the case any longer.
A flood insurance  policy compensates homeowners, renters, and business owners for all covered losses.
Unlike a Federal disaster loan, it does not have to be repaid.
You can't get flood insurance at the last minute.
In Central New York it takes 30 days after purchasing a policy to take effect. So you must buy your insurance well before the next major storm.
There are high-risk, Special Flood Hazard Areas where flood insurance is mandatory.
If you carry a mortgage from a federally regulated or insured lender (and you probably do), flood insurance will be required if you live in a high-risk area. How do you know if you are in a high risk area? Call us here at Scalzo, Zogby & Wittig. We have all the NFIP Flood Maps and we can tell you whether you're in a flood plain or not. It's a good idea to give us a call before you buy your home or commercial property so you can anticipate the cost of the flood insurance required by whatever lender you choose.
Even if you own your property in a high-risk area outright, you should still be covered by flood insurance.
Believe it or not, statistics show that if you live in a high-risk zone, you are more likely to have flood damage than a fire over the life of a 30-year mortgage.
You can purchase flood insurance no matter your flood risk.
This is the myth we most want to bust…you don't have to live in a flood zone to be able to buy affordable flood insurance. All of our local communities participate in the National Flood Insurance Program. That includes New Hartford, Whitesboro, Clinton, Utica, and Rome.
You can even get flood insurance if your house has been flooded before.
And, if you're outside of a high-risk area, you'll probably qualify for a lower cost Preferred Risk Policy.
Why should you consider flood insurance if you live outside a high-risk flood zone?
People outside of mapped high-risk areas file nearly 25% of all NFIP flood insurance claims and receive one-third of Federal Disaster Assistance for flooding.
Just $129! You might be surprised at the affordability of Preferred Risk Flood Insurance Policies for Homeowners and Business Owners.
For just $129 a year, qualifying homeowners can purchase a minimum of $20,000 building and $8,000 contents coverage.
Renters can pay as little as $57 per year for $8,000 contents coverage.
Business owners can buy $50,000 building coverage and $50,000 contents (per building) for just $643 per year.
Now, to qualify for a Preferred Risk Flood Insurance Policy, the property must be located in a moderate to low risk flood zone. You can find out where your location falls on the flood maps by giving us a call.
Also, if you have had two claims or disaster relief payments of $1,000 or more for flooding, or three flood losses of any amount, your structure would be ineligible for the Preferred Program.
So call us to talk about flood insurance for your home or business property. Just reading the Utica Observer Dispatch the last two years is enough to inform us all that flooding is a serious…and likely…scenario here in the Mohawk Valley.
Until next time,
The SZW Team
Scalzo, Zogby & Wittig, Inc. is your Utica area independent agent. Call us for a quote on insurance for your home, car, business, or life at 315.792.0000. Or contact us here and we'll get right back.