Distracted Driving on the Rise
July 19, 2022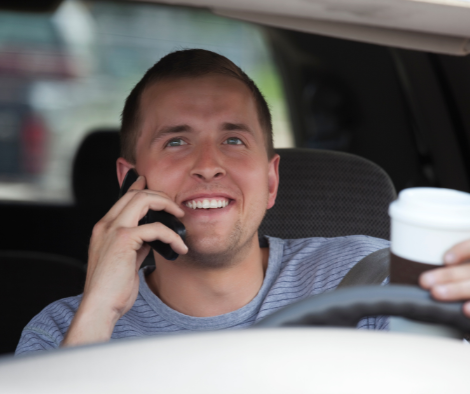 We've talked about the dangers of distracted driving in our blog. Check it out here, here, and here. We were hoping to convince at least a few drivers that the rewards just aren't worth the risks. Yet we're disappointed to see that the incidents of distracted driving are rising in the U. S.
Here's what has us worried:
Distracted driving has risen more than 3 percent from February 2020 to February 2022. Drivers in February 2022 drove an average 1.38 seconds of distracted driving per hour. That's a 30 percent rise from February of 2019. And it's dangerous because if a driver has a 10 percent increase in distraction their chance of crashing increases 1 percent.
Distracted driving is usually seasonal, rising in the summer and dropping in the winter. The theory is that with summer vacations, teen driving, and perceived safer conditions drivers feel more free to use their phones while driving. In 2020 distracted driving rose 11 percent in the summer. But in 2021 it stayed at that increased rate all year. So distracted driving remained at the same high level all year long.
Not only has the seasonal variation in distracted driving flattened, but it's gotten worse at night. Distracted driving has increased during the hours of 6 PM to 11 PM by 35 percent. And from 11 PM to 6 AM by a whopping 40 percent.
The 10 percent of most distracted drivers have an insurance loss frequency of 2.2 times the 10 percent of least distracted drivers. In 2019, the National Highway Traffic Safety Administration reported that of all fatal crashes, 13 percent involved phone distraction.
The Governors Highway Safety Association (GHSA) reports a total of 15 percent of police-reported crashes had distraction as a factor. The highest risk behaviors were cell dial, cell text, reaching for an object, cell-browse and in-vehicle devices.
All of this in spite of 80 percent of drivers surveyed stating that talking on a hand-held cell phone is extremely dangerous. And 95 percent said that typing or texting while driving is extremely dangerous.
Yet people continue to do it. So we'll keep talking about it. Thing is, we're wondering if checking your phone is more habit than convenience. Most trips around town are short. Checking messages is easy when you get where you're going. Yet we're glued to our phones all day, so force of habit causes us to do the same in the car.
So it seems a conscious effort is needed to delay checking or messaging while driving. With the above stats in mind, we think it would be very well worth it. It's your decision to make.
Now, not everyone drives and texts. So on the plus side, if your driving is good, our rates are better. We have some of the best rated auto insurance carriers in New York State.
Give us a call at 315.330.8521 and we'll give you a quote. We can save with credits and with multi-policy discounts. Packaging all of your personal insurance in one place saves on all your policies.
Give us a call today. (But please wait till you're out of the car!)
Until next time,
Your SZW Team
SZW Insurance is your Utica area Trusted Choice™ independent insurance agent. Call us for a quote on insurance for your home, car, business, or life at 315.792.0000. Or request a quote here.