Test Yourself on Some Rules of the Road
July 12, 2022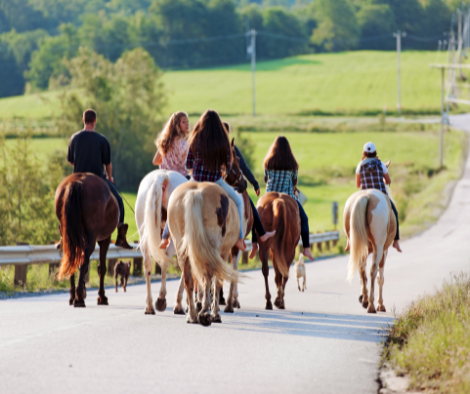 When did you get your driver's license? A few years ago we bet. So with those years of driving experience under your belt, you could pass the New York State learner's permit test, right?
It may be harder than you think! We looked around the DMV website and found that some of the questions on the test aren't that easy. So have some fun and see how much you know…or don't know…about the rules of the road.
To toughen it up a bit, we won't give you hints with the multiple choice answers. Or we made up the question based on the manual.
What are the colors of the warning signs that indicate hazards ahead, such as curves in the road or narrow bridges?
True or False: It is okay to drive across the white line signifying the edge of the road.
What must you do to obey the Move Over Law?
True or False: When you approach a horse and rider on the right side of the road, sound your horn to warn them you're there.
How do the blind spots around a large commercial vehicle differ from the blind spots around a car?
65%, 80% or 90% of the decisions you make driving are based on what you see.
When is it illegal to drive without your headlights on?
Answers
1. Yellow and diamond-shaped, with black letters or symbols.
2. False: It is illegal to drive across the edge line, except when told to by a police officer or other authorized official or when allowed by an official sign.
3. This law protects emergency vehicles parked on the side of the road. Drivers must reduce speed on all roads when they encounter these vehicles. On roads with multiple lanes they must also move from the lane adjacent to the emergency vehicle.
4. False. It is illegal to sound your horn when you approach or pass a horse or horses.
5. Large vehicles such as tractor-trailers have deep blind spots directly behind them and much larger blind spots on both sides. If they have long hoods, the blind spot in front can be 20 feet.
6. 90% of your decisions are based on what you see.
7. The law requires you to use your headlights in three instances: 1. from one-half hour after the sun sets to one-half hour before the sun rises, 2. when visibility is less than 1,000 feet, and 3. when you use your wipers to clear rain, snow, or sleet
So how did you do? We're sure most of you did well. Driving rules are pretty much common sense. It's the chances we take that get most of us into trouble. Texting while driving, speeding, or getting behind the wheel after a few drinks are chances not worth taking.
Safe driving is trouble free driving.
Speaking of safe driving, if your driving is good, our rates are better. Call us for a quote on your car insurance. Our best rates are for drivers with clean records. In addition, we offer credits and multi-policy discounts.
So give us a call at 315.330.8521 and get the right insurance for the best price. Drive safely Mohawk Valley and don't honk at horses!
Until next time,
Your SZW Team
SZW Insurance is your Utica area Trusted Choice™ independent insurance agent. Call us for a quote on insurance for your home, car, business, or life at 315.792.0000. Or request a quote here.