Lightning and Your Car, Your Home
July 5, 2022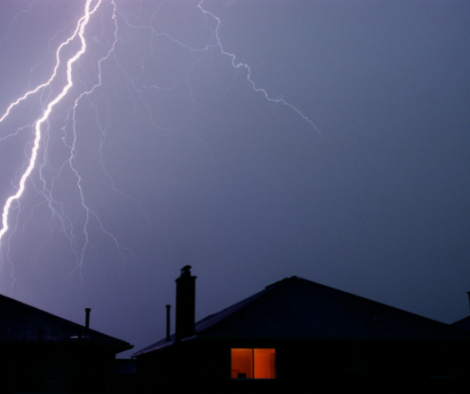 Can lightning damage your car? If so, is it covered by your car insurance? What about your homeowners insurance policy? Does it cover your buildings, contents, even trees if they're struck by a hot bolt of lightning?
And speaking of hot, how hot is lightning? Technically, since it's the movement of electrical charges, it doesn't have a temperature. What does is the material the lightning is passing through. It heats up because of these electrical charges.
Good conductors of electricity won't heat up as much as poor conductors. And air is a poor conductor. Therefore, it gets extremely hot as lightning passes through it. And we mean extremely hot. Up to 50,000 degrees Fahrenheit…5 times hotter than the surface of the sun!!
Put another way, your household current is 120 Volts and 15 Amps. A lightning flash is about 300 million Volts and 30,000 Amps! Sounds like lightning can damage your car. And your home.
Lightning and Your Car Insurance
Many believe that the insulation provided by the rubber tires on the car protects you from lightning while you're in the car. This is half true…you are safer in the car, but not because of the tires. It's the metal roof and metal sides that protect you.
But what about damage to the car itself? Fact is, it can be substantial. The heat from a lightning strike can be enough to partially melt the antennae of a vehicle. It can damage or destroy electrical components, shatter rear windows through the defrosting wires, and even damage tires as it passes into the ground.
There is coverage for this damage on your car insurance if you carry Comprehensive on your vehicle. This is the coverage that pays for non-collision events such as theft, vandalism, and severe weather.
This includes lightning strikes. You pay your deductible, your company pays the rest of the repair bill. If you don't carry comprehensive coverage, you are responsible for the repairs.
Lightning and Your Home Insurance
So you are protected from lightning in your car with its windows closed. What about your home? A house is safe as long as you stay away from electrical appliances , wires, TV cables, computers, plumbing metal doors, and windows.
Fire and lightning damage to your home and its contents is a basic homeowners insurance coverage. Your insurance company pays for repairs minus your deductible. Trees struck by lightning are covered on your home insurance. This is additional insurance with up to $500 for any one tree.
Your Safety More Important than Your Property
We checked with the National Weather Service for some tips on what you should do to protect yourself when you're caught outside in a storm. The main piece of advise? Run to the nearest building.
Crouching down, sheltering under a tree, or leaning on a car (because it has rubber tires) won't work. Get inside and stay away from the windows and electrical appliances, wires, and cables.
Questions? Wait for the storm to pass before you pick up the phone and call us. If we don't have your insurance, call us for a quote on your personal or business insurance. We're here to help and quote you the right insurance for the best price.
Stay safe out there Mohawk Valley!!
Until next time,
Your SZW Team
SZW Insurance is your Utica area Trusted Choice™ independent insurance agent. Call us for a quote on insurance for your home, car, business, or life at 315.792.0000. Or request a quote here.