Celebrating America's Birthday in the Mohawk Valley
June 28, 2022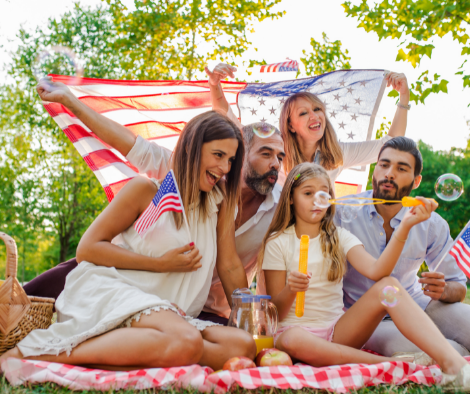 America's Fourth of July celebration got started with some of the most famous words in history, "We hold these truths to be self-evident, that all men are created equal, that they are endowed by their creator with certain unalienable rights, that among these are Life, Liberty, and the Pursuit of Happiness…"
On the first holiday of summer, we celebrate the birth of America's independence. And its bedrock promise that all men and women are created equal. And that we have certain rights guaranteed because we are Americans.
As Benjamin Franklin said, "Where liberty dwells, there is my country." And Abraham Lincoln, "I like to see a man proud of the place in which he lives. I like to see a man live so that his place will be proud of him."
At Scalzo, Zogby & Wittig, Inc. we are especially proud of our place here in the Mohawk Valley. Not only was the Battle of Oriskany, a turning point in the Revolutionary War, fought just miles from Utica. But the Mohawk Valley was known as the breadbasket of the Revolutionary War.
So let's celebrate (with legal fireworks)!
What Fireworks are Legal in NYS
We went to the New York State Division of Homeland Security for info on the kinds of fireworks legal in New York. The law allows for a very specific kind of fireworks known as Sparkling Devices.
These are ground based or hand held and produce a shower of colored sparks and/or a colored flame. They may also cause audible crackling or whistling noise and smoke.
So what about Oneida County, Herkimer, and Madison Counties? Sparkling devices are legal in these counties but only during certain times of the year.
Celebrate Without Illegal Fireworks
According to the National Fire Protection Association (NFPA) thousands of people are injured by fireworks on July 4th. So we thought it a good idea to offer some "non-fireworks" ways to celebrate so you can avoid burns, fires, or other injuries.
Fun suggestions from the NFPA:
Use glow sticks instead of sparklers.
Regular noisemakers are fun, loud, and make a patriotic statement.
Outdoor movie night. How about Drums Along the Mohawk with Henry Fonda and Claudette Colbert!
Red, white and blue silly string.
Have the whole family make a patriotic craft.
Throw a regular birthday party for America with party favors, cake, and an enthusiastic rendition of Happy Birthday to the USA.
We hope you'll consider these offbeat ways to celebrate July 4th this year. And we're sure you can come up with many more fun, patriotic things to do. In this way, you'll avoid serious injuries from dangerous fireworks. Or the hassle of a house fire from a roman candle gone astray.
And remember the Mohawk Valley and its role in the Revolution. We have a history to be proud of.
Happy Fourth of July Mohawk Valley!
Until next time,
Your SZW Team
SZW Insurance is your Utica area Trusted Choice™ independent insurance agent. Call us for a quote on insurance for your home, car, business, or life at 315.792.0000. Or request a quote here.