Legal Fireworks in Oneida, Herkimer and Madison Counties
June 26, 2018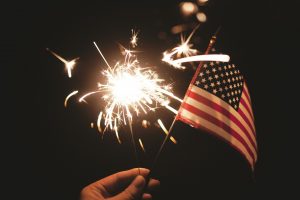 As you probably know, certain fireworks are now legal in Oneida, Herkimer, and Madison Counties. New York State calls the kinds of fireworks you can buy, "Sparkling Devices."
Some of the names they go by are Totally Circus, Pure Fantasy, and Pip Squeak. Sounds like fun!
According to NYS law, they must be "ground based or handheld devices that produce a shower of white, gold, or colored sparks as their primary pyrotechnic effect. Additional effects may include a colored flame, an audible crackling effect, an audible whistle effect, and smoke." (Section 270.00 of the NYS Penal Law)
The law goes on to say that sparkling devices do not rise in the air or fire anything into the air. And they do not explode. So what they're talking about ranges from old fashioned sparklers to more sophisticated showers of sparks.
We are not law enforcement, so we don't take any responsibility for the partial list below. But the best we can gather on what is legal and what is illegal is:
Legal Fireworks in New York State
Sparkling Fountains
Sparklers on wooden sticks, not metal
Smoking devices
Snakes
Party poppers
Paper wrapped snappers
Illegal Fireworks
Firecrackers
Roman candles
Ground spinners
Bottle rockets
We are the last ones to put a damper on your parade, but we take safety seriously. (After all, we are in the insurance biz!) So we thought you should know what the National Fire Protection Association (NFPA) says about fireworks and firework safety.
Fact is, thousands of people are injured each year blowing off fireworks. Many of these injuries are serious. According to the NFPA fireworks start an average of 18,500 fires per year. That includes 1,300 structure fires, 300 vehicle fires, and 16,900 outside and other fires. These fires caused $43 million in direct property damage. Of these fires, 25% are reported on…you guessed it…Independence Day.
In 2015, hospitals treated approximately 11,900 people for injuries from fireworks. 41% of those were to the head and over half to arms, legs, hands, and fingers. As you can imagine, 36% of those were to the hands and fingers. And 26% were to kids younger than 15-years-old.
Another interesting stat is that 74% of the injuries were to males. That doesn't surprise us either. There is something alluring for men/boys about matches, fire, and booming cherry bombs. Men love pyro!
So we hope you have a bunch of fun this 4th of July. But we are you Trusted Choice insurance agents. We would be remiss if we didn't point out some safety tips for you to think about before you celebrate. These are from NY.gov and its Department of Homeland Security.
Follow the directions on the packages.
Use outdoors only, never inside.
Wear eye protection, especially the designated "fireworks master."
Light just one sparkler at a time
Don't point the sparkler tube at anyone
Keep your sparklers in a safe location when not in use
Don't use sparklers under the influence of alcohol or drugs.
Never try to relight or handle malfunctioning fireworks
Douse malfunctioning fireworks in water before disposing.
Purchase sparklers and novelty devices from NY State registered dealers.
On the last point, there are local suppliers of legal sparkling devices. We suggest you buy from them. You'll be doing business locally and know you're getting legal fireworks for Oneida, Madison, or Herkimer Counties.
So have an amazing 4th this year. But when you WOW! them with your sparklers and novelty devices, be careful.
Until next time,
Your SZW Team
SZW Insurance is your Utica area Trusted Choice™ independent insurance agent. Call us for a quote on insurance for your home, car, business, or life at 315.792.0000. Or request a quote here.