Infotainment and Driving: Can You Do Both?
June 19, 2018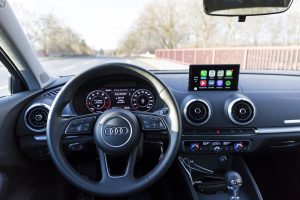 Many older Central New Yorkers remember back in the day when AM/FM radio and air conditioning were offered only in luxury cars. But satellite radio, phones, GPS, video? Too farfetched to even imagine.
Now car buyers get all of that and more in most any new car.
A friend of ours told us the other day (he's in his mid-60s) that he got so confused with it all in his new Hyundai that he doesn't touch any of it but the AM/FM radio.
In fact, while fooling with the SeriusXM clicking to find the George Carlin station he started drifting left and almost crashed head on. That was enough for him to cancel the subscription and stop touching any of these buttons while driving.
But we got wondering, how hard is it to manipulate either the GPS, phone, or radio and drive at the same time? Lots of people do both, we regret to say. But how dangerous is it?
It turns out AAA is also concerned about all of this and has done some research. They wanted to find out which task is the most demanding to complete while driving. What about voice commands, touchscreens, buttons, etc.? And what are the variations in the equipment demands with different brands and vehicle makes and models?
Take a look at some key findings about performing these tasks: calling or dialing, text messaging, tuning the radio, or programming navigation:
Turns out that programing your navigation was the most demanding task to perform while driving. What you should do: program your navigation system before starting to drive.
Next up is text messaging, which takes a significantly higher level effort than tuning the radio or calling or dialing. What you should do: Avoid texting while driving.
All tasks demanded higher levels of mental demand than just driving. What you should do: Focus on your driving, don't just go thru the motions.
Radio tuning (our friend above) and navigation tasks led to more drivers with their eyes off the road than with calling/dialing and text messaging.
Text messaging and navigation efforts led to longer task completion times than tuning the radio and calling/dialing.
So what should car makers do about distracted driving? First thing is to make cars that block the ability to program navigation and send text messages while driving. As you see above, those are the two activities that take the most effort. Therefore, they are the most dangerous.
Auto makers can also improve systems to reduce visual demand so drivers' eyes stay focused on the road. The thing is, just because you have sophisticated infotainment systems installed in your car doesn't mean they've been tested for safety.
The upshot is that we encourage you to preset your radio so you don't have to play with the dials while driving. Don't text or even talk as you drive. Your brain cannot focus as completely on driving while pushing buttons, texting, or talking at the same time.
Enjoy your entertainment but get it set where you want it before you drive. Then concentrate on the task at hand…getting to your destination safely.
Until next time,
Your SZW Team
SZW Insurance is your Utica area Trusted Choice™ independent insurance agent. Call us for a quote on insurance for your home, car, business, or life at 315.792.0000. Or request a quote here.