Boating Hazards Including LED, Electrical, & Prop
June 21, 2022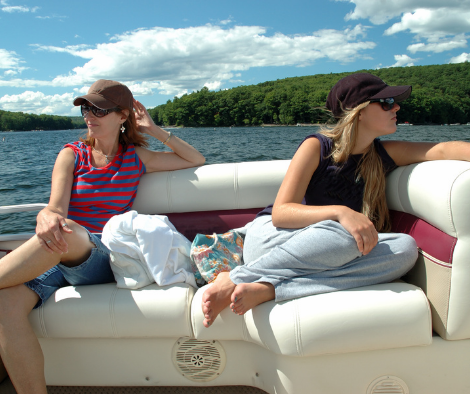 Mohawk Valley snowbirds who "fly south" for the winter forget how long it is. But for those who brave our long, cold season, boating seems a distant dream. Until all of a sudden, the summer season is upon us.
From Central New York to the Adirondacks and the St. Lawrence River to the Great Lakes, boat captains skipper their crafts on New York State's beautiful lakes and rivers. Family, friends, and sportsmen enjoy that feeling of freedom riding the waters of Upstate New York.
So as summer begins, we thought this would be a good time to remind navigators and passengers that it can get treacherous out on the water.
Here are some things you should watch out for…
Marina Docks With Electrical Wiring
We hadn't heard of this before, but we thought it important enough to let you know. We thank your friends at the Travelers for this tip.
A stray electrical current from dock wiring at the marina can create an electrocution hazard in the water. That means that a swimmer nearby can become paralyzed by the electrical field and drown. It's called Electric Shock Drowning (ESD).
The phenomenon has not been reported in salt water, only freshwater marinas. To avoid this deadly hazard, don't allow swimming from a boat or dock where shore side electrical connections are provided. And be especially careful if you see any evidence of torn or chaffing marina electrical cables or wiring.
Swimmers and the Propeller
We recall riding a pontoon boat out to a cove on the other side of an island on an Adirondack lake. The swimming was perfect! Young and old swam off that boat for hours.
We hope it's obvious, but we'll remind you anyway: the prop is exposed. No swimming while the boat is running! And when it's time to leave, make sure everyone is in the boat and accounted for before you start the engine.
Check that Your LED Lighting Doesn't Cause Radio Interference
Here's another one we hadn't heard about. It's from a safety alert from the U. S. Coastguard based on reports from commercial vessels. It warns that LED lights can cause poor reception on VHF frequencies, digital selective calling, and automatic identification systems.
We found more info on how to deal with this here. You'll find out how to test your LED lights to see if they are interfering with your on board radio.
What to Have On Board
There are some basic items you should have on your boat that you will be very glad you did in case of an incident or emergency.
Boat certification and registration.
Personal flotation device (lifejacket) for each passenger.
Charged and functioning fire extinguisher.
Fully stocked boating emergency/survival kit.
Boat Insurance from Scalzo, Zogby & Wittig, Inc.
Thanks again to the Travelers for these tips. As independent agents, we have multiple companies that will insure your boat. That includes hull coverage, liability, and accessories. Also fishing equipment.
So give us a call now at 315.330.8463 so we can get the right coverage on your boat for the best price. You'll have peace of mind as you enjoy a spectacular New York State summer!
Until next time,
Your STW Team
SZW Insurance is your Utica area Trusted Choice™ independent insurance agent. Call us for a quote on insurance for your home, car, business, or life at 315.792.0000. Or request a quote here.