Colorado Wildfires are Stark Reminder to Be Prepared
January 4, 2022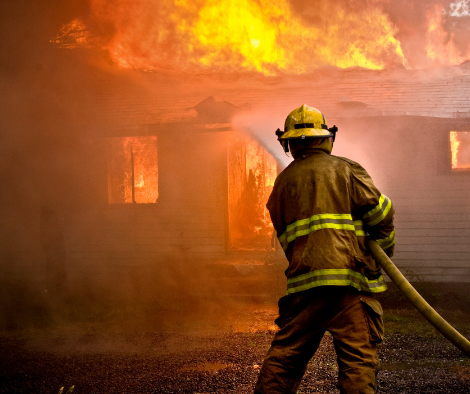 The recent Colorado wildfires may have been the worst in the state's history. The fires burned close to 1,000 homes in Boulder County. As of this writing it isn't known how the fires started. But this area of the state has been suffering from severe drought. And then high winds with gusts of nearly 110 miles per hour fanned the flames.
Now residents are dealing with a foot of snow and freezing temperatures. So not only are they suffering fire damage but also possible frozen pipes and water damage.
All of this got us thinking about our customers in the Utica area. Conditions are certainly not the same here. Rain is more normal than dry weather. And we haven't suffered winds of over 100 miles per hour.
But…many residents of Boulder County lost everything. And they lost it quickly. So what is their insurance situation? Thing is, property values are skyrocketing and inflation is on the rise. Will there be enough insurance coverage in their homeowners policies? Will they be able to rebuild their homes as they were before the disaster?
Lawyers in Denver are saying that they think the vast majority of Coloradans are underinsured. And shortages in the construction industry of steel, lumber, asphalt, and even labor add to the costs.
So what about your home? Put yourself in the shoes of those in Boulder County who have lost everything. Imagine your home and all of your possessions burned. Completely gone. What could you have done to prepare?
Take Stock of Today's Value of Your Home and Contents as if They Were Gone Tomorrow
Here's how:
Talk to us, your independent insurance agent, about your home's replacement cost. We know our local Utica area neighborhoods. And we have estimators that reflect local construction costs.
Inventory your possessions. You can do this by going room to room and writing down what you own. Or video each room and its contents. Then place a value on each item.
Ask us about raising your deductibles. This will help pay for any additional premiums.
The key reason to get the above done before a loss is that it helps you purchase the right amount of insurance. But also, since you'll know what contents you had, filing a claim is much easier. Can you imagine coming up with a list of your items destroyed in a fire when all that's left is a burned out pile of rubble?
One thing to remember is to keep your home inventory at another location. Maybe your place of work. Or at a relative or friend's house. We wrote an in depth article about all of this last year. In it we talk about a step-by-step home inventory method. How to get started and what to include. And how to use today's technology to make the job easier and more comprehensive.
We also suggest that now is the perfect time to start in on a home inventory project. It's winter and you're inside anyways. In the springtime you'll be wanting to get out of the house!
We highly suggest you take a look.
Our thoughts and prayers go out to the people in Colorado suffering from this wildfire. And elsewhere in the country who have also experienced the same devastation. May they get what they need to recover and rebuild.
Until next time,
Your SZW Team
SZW Insurance is your Utica area Trusted Choice™ independent insurance agent. Call us for a quote on insurance for your home, car, business, or life at 315.792.0000. Or request a quote here.