You Can Easily Prepare for Getting Stranded in Your Car
January 11, 2022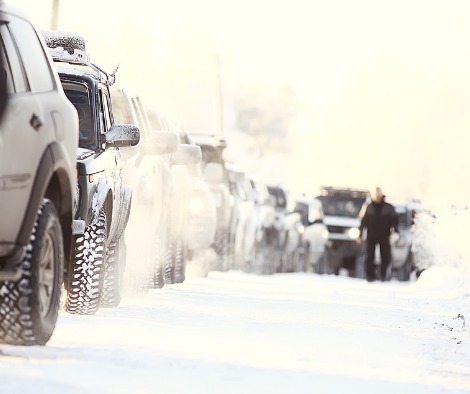 If you're a long time Utica area resident, you've become winter tough. You're used to freezing temps, plowing driveways, and icy roads. Fortunately, you're usually close to your warm home. A treacherous, cold trip to the mall is soon forgotten.
But things can go very wrong if you travel longer distances in the car. National news ushered in the New Year with this. A monster snowstorm stranding hundreds of drivers on Interstate 95 in Virginia.
They got caught in a snowstorm that started with rain. Then dumped two inches of snow an hour. After a foot fell and with accidents blocking traffic, nobody could move. Travelers ended up spending twenty four hours in their cars, traffic at a standstill.
Hard to imagine spending that much time in your car stopped on a major highway, cold and hungry. But what if it happens to you? Is there a way to prepare?
We checked with the National Safety Council (NSC) for suggestions. They included keeping an emergency supply kit in the trunk. It should include:
First aid kit including gauze, tape, bandages, antibiotic ointment, aspirin, a blanket, non-latex gloves, scissors, hydrocortisone, thermometer, tweezers, and instant cold compress.
Nonperishable, high-energy foods such as unsalted nuts, dried fruits, and hard candy.
Cold weather items such as a snow brush, windshield washer fluid, warm clothing, cat litter for traction, and blankets.
A properly inflated spare tire, wheel wrench and tripod jack.
Jumper cables.Tool kit and/or a multipurpose utility tool.
Shovel
Flashlight and extra batteries.
Reflective triangles and brightly colored cloth to make you vehicle more visible.
Compass
Drinking water
Reflective vest in case you need to walk to get help
Car charger for your cell phone
Fire extinguisher
Duct tape
Rain poncho
People stuck on I-95 reported running their engines sparingly to conserve gas. But did turn on the engine at intervals for heat. So be careful of carbon monoxide poisoning. Remember to clear snow from the exhaust pipe to prevent carbon monoxide buildup.
Ready.gov also recommends you prepare your car for winter emergencies. Check antifreeze levels, battery and ignition system, brakes, and exhaust system. Also your windshield wiper equipment and washer fluid level. And use snow tires in the winter.
Yes, here in the Utica area we're used to winter storms that can dump many inches of snow in short amounts of time. You might think why bother with all of this prep? After all, the winter storm in Virginia was a fluke.
But that's what makes it so dangerous. The things you don't expect are the ones you probably haven't bothered to prepare for. When it gets really bad out there, your life may be at stake.
So expect the best when you travel, but prepare for the worst. Even if you're heading south this winter.
Until next time,
Your SZW Team
SZW Insurance is your Utica area Trusted Choice™ independent insurance agent. Call us for a quote on insurance for your home, car, business, or life at 315.792.0000. Or request a quote here.