How To Prevent Mold in Commercial Buildings
January 18, 2022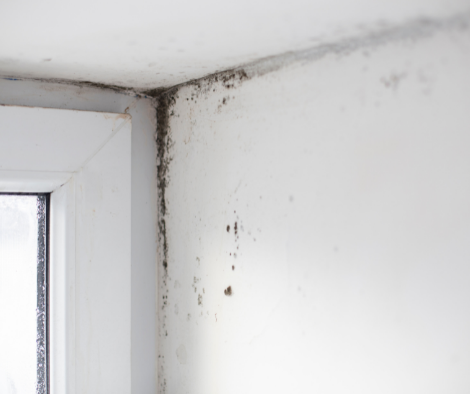 Now top-of-mind, COVID-19 has boosted the importance of avoiding respiratory disease indoors. But there are other risks that affect our health inside. One of those is mold.
Mold can cause health problems, especially for those with allergies or respiratory issues. Since mold needs water to grow, unwanted moisture needs to be eliminated to prevent it.
Moisture can accumulate from roof leaks. Or water directed into or under the building from landscaping and gutters. Unvented combustion appliances can also cause moisture problems. The natural humidity in the building may also be high.
Interestingly, tightly sealed buildings constructed in the 1970s-90s may also be a problem. They were built to conserve energy, but may lack the ventilation needed to eliminate moisture in the air.
Mold Prevention is the Best Cure
As we said above, when it comes to mold, water is the culprit. So solving problems with moisture is the ticket to a mold free environment. Here are some tips we got from the Environmental Protection Agency (EPA):
Fix leaks in the plumbing as soon as you notice them.
And fix leaks in the building right away.
Be on the alert for condensation and wet spots.
Prevent condensation by increasing surface temperature with insulation or increased air circulation.
Prevent condensation by reducing humidity. Repair leaks, increase ventilation, or dehumidify.
Keep heating, ventilation and air conditioning drip pans clean, flowing properly, and unobstructed.
When possible, vent moisture generating appliances outside.
Maintain low indoor humidity: below 60% relative humidity, or if possible, 30%-50% indoor humidity.
Stick to regularly scheduled building/HVAC inspections and maintenance.
Clean and dry wet spots as soon as possible.
Keep foundations dry. Provide drainage and slope the ground away from the foundation.
Consider the possibility of hidden mold. Anywhere moisture might be building sight unseen.
Clean up small mold problems and fix moisture issues before they become larger mold problems.
When mold spreads throughout an area of your workplace, it can cause serious damage. Anywhere from $500 to $15,000 and more. Most commercial property insurance policies exclude mold damage, unless it's caused by a covered loss.
And remember, flood is NOT covered on a commercial property policy. However, you can purchase flood insurance for your business. Give us a call on this for a quote.
So the best protection against mold is prevention. Consider the points above. And stay alert to conditions in your building that may cause unwanted moisture.
Speaking of your business, we represent some the best A-rated companies offering commercial property, liability, workers compensation, and vehicle insurance. Call us to discuss your unique risks.
And if you're a small business, our Business Owners Policies (BOP) are very competitively priced here in the Utica area. We'll get you the protection you need at the best price.
And keep your building dry to prevent mold.
Until next time,
Your SZW Team
SZW Insurance is your Utica area Trusted Choice™ independent insurance agent. Call us for a quote on insurance for your home, car, business, or life at 315.792.0000. Or request a quote here.