7 Snowmobile Safety Tips for the Adirondacks, Tug Hill, and Mohawk Valley
January 25, 2022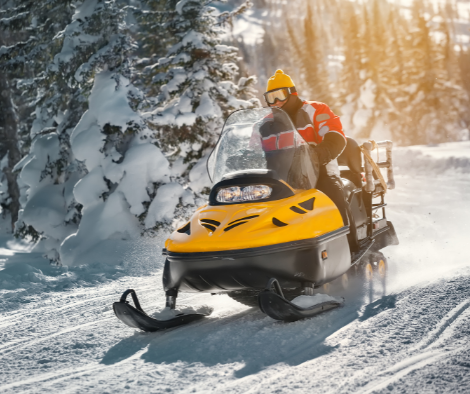 The Town of Webb Snowmobile Trail System reported fair to good conditions on January 24, 2022 with up to four inches of hard packed base. They also warn that there are rough spots. More snow is needed as groomers smooth what's there.
So we've finally got some snow here in the Mohawk Valley! And up north in the Adirondacks and Tug Hill. But it isn't much and the report of rough spots in Old Forge reminded us of the importance of safe sledding.
So we checked VisitAdirondacks.com for some tips.
How to Safely Snowmobile the Great New York State Outdoors
Take a snowmobile safety course.
Snowmobile clubs and associations are still offering New York State safety courses January 29 thru March 4, 2022. These are valuable courses for everyone, but especially younger operators. Fourteen to seventeen-year-olds may operate a snowmobile without adult supervision if they've completed a New York State course. And ten to thirteen-year-olds can snowmobile with an adult if they've taken the course. The safety courses are highly recommended and administered by snowmobile experts.
Always carry a compass and map.
You might wonder why you'd need these when you know the trails. Thing is, snowdrift and unexpected storms are disorienting. They can alter the look of the trails and throw you off course.
Know your hand signals.
Hand signals let those around you know your next action. Check out this short video describing seven important hand signals. These are especially important when making turns or crossing roadways.
Look for snowmobile signage along the routes. This includes markers designating routes open to sledders. And Stop signs and common traffic signs.
Keep safe following distance.
If you're in a group, a safe distance from the sled ahead or behind is three to four sled lengths. And it's safer to stick with the group rather than turn off on your own.
Use caution on multi-use trails.
Sled trails in the Adirondacks often link to cross country ski trails. And, of course, wildlife is free to "use" any trail they want! So slow down when you're near skiers, snowshoers, or animals. There are even walkers occasionally on the trails.
Follow basic etiquette.
Let faster sledders go ahead of you. Be courteous to groomers. Pull off the trail if you need to stop. Don't stop side-by-side with another sled on the trail, blocking the way.
Get Your Snowmobile Insurance from Scalzo, Zogby & Wittig, Inc.
New York State requires all snowmobiles operated on any part of a roadway or shoulder of a highway in the state to be covered by minimum liability insurance. Those minimum limits are $10,000 for an accident involving one person. $20,000 for an accident involving two or more persons. And $5,000 of property damage from one accident.
We recommend higher limits of liability. As you can see, the above coverage isn't much if you're sued for being at fault in a snowmobile accident. But purchasing higher limits is surprisingly inexpensive.
But there's more. Our A-rated insurance companies also offer Comprehensive and Collision Coverage. Collision covers your sled if it's damaged in an accident. Comprehensive if it's stolen or vandalized.
We also offer coverage for Uninsured/Underinsured Motorist, Medical Payments, and Accessories and Custom Parts/Equipment.
So if you don't have snowmobile insurance now or your renewal is coming up, give us a call at 315.738.1890. We'll talk about the right protection at the best price.
And enjoy this winter's snowy Utica area wonderland!
Until next time,
Your SZW Team
SZW Insurance is your Utica area Trusted Choice™ independent insurance agent. Call us for a quote on insurance for your home, car, business, or life at 315.792.0000. Or request a quote here.