Car Maintenance WAS as Easy as a Lawn Mower
October 26, 2020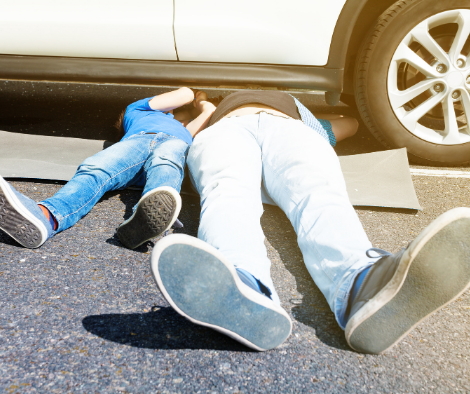 We've written before about modern car technology, concentrating on two advancements. Technology that distracts us all and technology that helps older drivers. You see and hear the distracting tech in today's cars in the radio, GPS, and even video. And older drivers get all kinds of technological help in newer cars.
Take a look at these articles from our blog:
In-Vehicle Information Systems Extremely Dangerous
Car Modifications and Accessories that Keep Older Drivers Safer
But then we ran across a Guide to Modern Auto Maintenance in a recent AARP magazine (September 2020). We caught this line at the top of the article, "The cars we grew up with had little more complexity than a lawn mower." Now that piqued our interest!
How Today's Car Maintenance is More Complicated
Cabin Air Filters: Boomers probably haven't heard of this. They improve the interior air quality and need to be replaced about every year. It's behind the glove box, under the dashboard, or under the hood. But it's tough to get at, so ask your mechanic to take a look at it during your next inspection.
Fluids: Remember dipsticks and reservoirs? Many of today's cars don't even have dipsticks. The engine sensors trigger a problem with fluids. Here again, your mechanic should be routinely topping off fluids at routine inspections.
Engine Air Filter: The problem here is that electronic air sensor wiring is often built into the air cleaner housing. So it isn't just a matter of unscrewing the cover and replacing the filter. You don't want to damage the sensor.
Polishing Up the Body: Dish soap and water, a chamois to dry, and shiny coat of wax were all it took to make that car sparkle. But now, not so fast. You can easily dull and/or scratch today's car paints with everything above but the water. Now you should use special car-wash soap that's less harsh than regular soap. And use a microfiber drying towel. Also find out whether you should use ceramic coatings rather than regular car wax.
How Today's Car Maintenance is More Convenient
Oil Changes: Back in the day the recommendation was every 3,000 miles. And you could do it yourself. Now changes could be just once a year, 7,500 miles, or even as much as 15,000. Check the manual for your car's recommendation. So much less effort for oil changes. (Though they are harder to do yourself, you're probably going to need your mechanic.)
Wiper Blades: No more buying a rubber insert and just popping into the wiper blade. Now you get a package at the auto parts store with the insert already in the blade. Easy, peasy!
Headlights, Tail Lights, Turn Signals: Here's a plus…modern halogen, xenon, or LED lights usually don't need changing. At least for as long as you own your car. But if they ever do, they're easy to replace.
So overall it looks to us like people who aren't in the do-it-yourself mode of car maintenance don't really have to change their approach, ie. Let your mechanic do it.
But if you're so inclined, it may not be a good idea to fix it yourself. It seems the cars are so "smart" you might get into more trouble than it's worth. Best to let your Car Doctor (mechanic) take care of maintenance and repairs for you.
So do you remember the days when your dad taught you how to change the oil?
Until next time,
Your SZW Team
SZW Insurance is your Utica area Trusted Choice™ independent insurance agent. Call us for a quote on insurance for your home, car, business, or life at 315.792.0000. Or request a quote here. In Westchester County call Zak Scalzo at 914.246.0315 or email at zaks@szwinsurance.com.