Car Modifications and Accessories that Keep Older Drivers Safer
July 20, 2018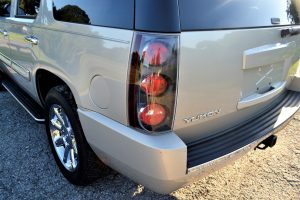 Can this be true? That was our first reaction when we saw the many ways manufacturers are modifying cars to help our seniors drive more safely. So until we get easy access to driverless vehicles, we thought it would be helpful to give you a heads up on what's available for you or a senior member of your family.
We checked the AAA Foundation for Traffic Safety for more on these technologies. The first group of components below are manufacturer installed either as standard or optional equipment. The second are aftermarket modifications or additions made to the vehicle.
Manufacturer Installed In-Vehicle Technologies (IVTs) for Seniors
Adaptive Cruise Control: Adjusts speed automatically to maintain constant space between your vehicle and the one ahead.
Adaptive Headlights: Also called steerable headlights, automatically changes the direction of the light beam as you steer left or right.
Backup/Parking Assist: Provides audible alerts that warn the driver when front or rear near an object. Most cars already have rear backup cameras.
Blind Spot Warning: Sensors detect objects, including other vehicles, to the left or right of your vehicle. Drivers will know that something is next to the vehicle if they're changing lanes or parking, even if it's in their blind spots.
Cross Traffic Detection: Detects traffic coming from left or right when backing. It can warn the driver or automatically stop the car.
Emergency Response: Automatically calls emergency personnel without contacting you first.
Fatigue/Drowsy Driver Alert: Uses various technologies to warn driver that they may be getting too tired to drive.
Forward Collision Warning: Provides warning when you are about to collide with an object. In some systems it will even apply the brakes so you don't hit the object.
Lane Departure Warning: Detects your vehicle's position in the lane and provides a warning to you if you drift out of your lane.
Night Vision Enhancement: Infrared sensors display objects such as people and animals at night on a video screen in the vehicle.
Semi-Autonomous Parking Assist: Steers the vehicle into a parking space by itself with little input from the driver.
Voice Control: Use voice commands to control vehicle features such as the radio or navigation system.
After-Market Modifications or Additions For Seniors
Convex/Multifaceted Mirrors: Increases the field of vision, eliminating blind spots. (If you have this, you probably wonder how you drove without it!)
Custom Armrests: Comfort and support for driver.
Driver Seat Cushions: Most importantly helps provide a better view of the road.
Gas Pedal Block: Raises the height of the brake and accelerator for easier use.
Hand Controls: Operator can accelerate and brake from one lever.
Left Foot Throttle: For those with impairments on their right leg.
Modified Secondary Controls: Allows easier access to wiper, horn, turn signal, cruise control, and headlights.
Pedal Extensions: Allows for easier access to the throttle and brakes.
Push Button Ignition: Especially helpful for drivers who suffer from arthritis.
Seat Belt Extensions: Helps drivers with limited mobility, including older drivers, to fasten their seatbelt.
Steering Wheel Modification: Reduces the strength needed to operate power steering. Includes steering wheel covers.
Upper Body Support: Helps keep posture and comfort for older drivers who may have back and shoulder problems.
By now you're probably wondering, do people actually use all of these modifications? It turns out that for some, the answer is yes. But most aren't utilized for one reason or the other. For example, 40% of drivers surveyed are using the Backup/Parking Assistant. Over 19% use Navigation Assistance and Voice Control. Under 10% of drivers use the rest.
Our purpose here is not to make recommendations. But it is to point out what is available to you. We suggest you consult the research at AAA for yourself. Then ask your auto dealership for advice if you think any of the items above will help you drive more comfortably and safely.
If help is there, you may as well look into using it. Especially if it keeps you or a loved one safer.
Until next time,
Your SZW Team
SZW Insurance is your Utica area Trusted Choice™ independent insurance agent. Call us for a quote on insurance for your home, car, business, or life at 315.792.0000. Or request a quote here.