Boo!! Trick-Or-Treating Returns in 2021
October 26, 2021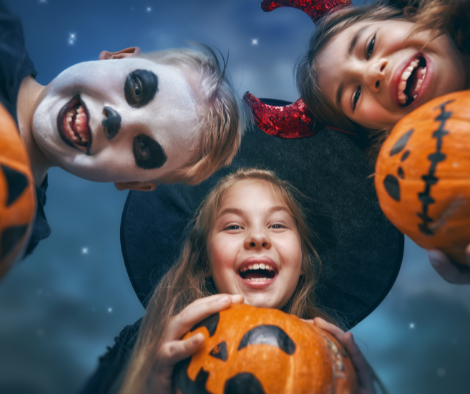 Halloween is back!! CDC Director Rochelle Walensky said on Fox News Sunday, "I would say put on those costumes, stay outside and enjoy your trick-or-treating."
Hard to imagine, but as we reported in our blog, this is the opposite advice the CDC gave last year. Then it was, "No traditional trick-or-treating." We've come a long way with the development of effective vaccines. And so many Americans taking advantage of them.
So we checked around for some post-shutdown advice with Covid still here. How can the kids have fun while staying safe on Halloween?
Keep in mind that children under 12 years old are not vaccinated. And children 12 and older are only recently approved. Here's what we found:
CDC Director Walensky noted the continued threat of Covid. So she recommended that kids stay spread out during their travels trick-or-treating. She advises that you do your best to avoid crowds and stay outside.
The Mayo Clinic recommends bright colored costumes and reflective tape. This is so kids can be more easily be seen at night. Also, skip masks and use non-toxic makeup instead. The problem with masks is that it's difficult to see, especially if it slips around on your face.
The American Academy of Pediatrics (healthychildren.org) recommends giving out treats while sitting outside. Attend events such as parades and corn mazes outdoors. And if you must celebrate indoors, mask up. Again, children under 12 years old aren't eligible yet for Covid vaccines. Speaking of masks, the recommendation is not to wear a costume mask over a Covid face mask. breathing is just too difficult for the kids.
And a few tips from the Scalzo, Zogby & Wittig archives:
We've noticed how little ghosts and ballerinas are oblivious to cars on Halloween night. They HAVE to run without looking. They can't help it. So it's up to adults to drive with total concentration and slowly as you travel the neighborhood.
Speaking of running, kids also must run from house to house. But it's hard to see the bumps, holes, or fixtures hidden on the lawns between houses. So if you're chaperoning a group of kids, try to get them to slow down. Walk if they can.
Make sure your child's costume fits. It's dark out for little kids in unfamiliar neighborhoods. Flowing robes and oversized masks make running from house to house much more difficult.
Place reflective tape on costumes and bags so drivers…and running kids…can see them in the dark.
We adults remember mapping out our night. Bags chock full of candy. And costumes that often reflected a small piece of our personality. But now it's the kids' night, so it's our job to make sure they're safe and sound.
So Happy Halloween 2021 Mohawk Valley!!
Until next time,
Your SZW Team
SZW Insurance is your Utica area Trusted Choice™ independent insurance agent. Call us for a quote on insurance for your home, car, business, or life at 315.792.0000. Or request a quote here. In Westchester County call Zak Scalzo at 914.246.0315 or email at zaks@szwinsurance.com.