How To Save On Home Heating
November 2, 2021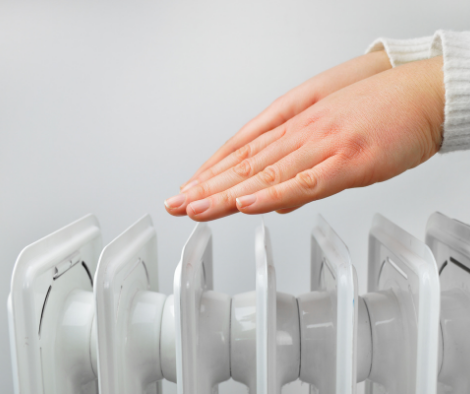 Save 30% on your energy bill? That's what the U. S. Department of Energy (DOE) says is possible. That is, with equipment maintenance and upgrades. Plus insulation, air sealing, and smarter thermostat settings.
Is it worth it? Considering that heating your home can make up about 29% of your utility bill, we'd say yes! So we checked DOE for some tips that any homeowner can use to lower their heating bill.
Save Money This Winter
Set your thermostat lower this year. Then bring out those nice sweaters you haven't worn in a while. You'll be comfortable and in style! And lower the thermostat even more when you're sleeping and away from home.
Clean or replace the filters on your furnace as recommended by the manufacturer.
Clean registers, baseboard heaters, and radiators. Lift the covers off the radiators and you may be surprised at the amount of dust that's accumulated. That dust decreases efficiency, so you'll get more heat and the satisfaction of a cleaner house.
If you have hot-water radiators, bleed them to eliminate trapped air. Do this by opening each valve slightly. You'll hear the air hissing out. When water starts to escape, you'll know you've got the air out. Be sure to use a small empty can to catch the bit of water that squirts out before you close the valve.
Place heat-resistant radiator reflectors between the walls and the radiators.
Don't keep exhaust fans in the kitchen and bathroom on longer than 20 minutes after you're done with them.
Let the sunlight in your south-facing windows. Do this by keeping the draperies and shades open during the day. Then close them at night when it's colder.
What About Space Heaters?
Some rooms in the house get inadequate heat from the main heating system. Often these are closed off in the winter. But if they're used, a space heater can come in handy.
The problem with space heaters, though, is safety. The U. S. Consumer Product Safety Commission estimates more than 25,000 residential fires associated with space heaters. And approximately 6,000 people require emergency room treatment from burn injuries.
So purchase one that carries the Underwriter's Laboratory (UL) label. And make sure newer models have current safety features.
Select the right size heater for the room. You'll find that most heaters come with a sizing table to help you pick the right one.
Be careful of combustion space heaters. If they are sold as "vent-free," they are not recommended by the DOE. There is a risk of carbon monoxide poisoning. And nitrogen oxide that can cause respiratory problems.
Electric space heaters are more expensive to operate, but don't create indoor air quality issues. The thing with these is that they should be plugged directly into a wall outlet, not to an extension cord. Also, get a unit with a tip-over safety switch. This automatically shuts the heater off if it's tipped over.
But accidents do happen, especially with space heaters. Which is why you have homeowners insurance. But do you have enough coverage to pay for a major fire? Are you paying too much for what you do have? Call us for a second opinion. We'll go over coverages based on local construction costs. And get you the best price for your unique situation.
So stay warm and save money this winter Mohawk Valley!
Until next time,
Your SZW Team
SZW Insurance is your Utica area Trusted Choice™ independent insurance agent. Call us for a quote on insurance for your home, car, business, or life at 315.792.0000. Or request a quote here. In Westchester County call Zak Scalzo at 914.246.0315 or email at zaks@szwinsurance.com.