Should Utica Area Kids Trick Or Treat This Year?
October 12, 2020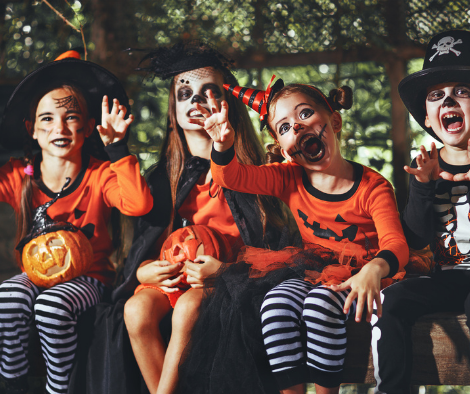 Halloween is rapidly approaching. Should you let your kids trick-or-treat this year? We checked around for advice and here's what we found.
The Centers for Disease Control and Prevention (CDC) has an information page on their website on coping with the holidays during the COVID-19 pandemic. They divide the section on Halloween into "Lower risk," "Moderate risk," and "Higher risk" activities.
Which reminds us, don't you agree that we're in a "Halloween-like" scary circumstance? Normal, everyday activities now demand risk categories! We guess that people in the Utica area are getting used to it, but it still strikes us as notably strange.
But the bottom line is this. To be safe you may have to change the way your kids celebrate Halloween this year. Let's start with the CDC's recommendations.
First, the higher risk activities. To avoid the spread of COVID-19, the CDC recommends NO TRADITIONAL TRICK OR TREATING. That means no door-to-door visits in your neighborhood. No crowded indoor costume parties. (Though outdoor costume parties where people are socially distanced is considered a more moderate risk.) No indoor haunted houses. No hayrides with people outside of your family.
We hadn't thought of this, but also no trunk-or-treat. This is where candy is handed out from trunks of cars lined up in a parking lot.
Moderate risk activities include one-way trick or treating, another new one to us. Individually wrapped goodie bags are lined up outside for families to pick up. At the end of the driveway for example. While socially distancing, of course.
Visiting pumpkin patches and picking apples is also a moderate risk. This is as long as people socially distance and wear masks.
So what can the kids do for fun on Halloween? Obviously, carving pumpkins into jack o'lanterns with family. Decorating the house. Having a virtual costume contest. A scary movie night.
Here's a "spirited" idea that we think might interest the kids. A scavenger hunt where you give them a list of Halloween themed things to look for in the neighborhood. This gets them outside, walking house to house while enjoying everyone's Halloween decorations.
As of this writing we don't see special guidelines from the New York State Department of Health. Or from Oneida, Madison, or Herkimer Counties.
But there are haunted houses and hayrides available. Just be sure that if you decide to enjoy these scary pleasures, make sure patrons are wearing masks, social distancing and washing their hands. All the usual COVID-19 precautions.
If you do decide to allow your kids to trick-or-treat door-to-door, take a look at our post from a few years ago. You'll find valuable tips on keeping the ghosts and goblins in your family safe.
And remember, Halloween masks are not COVID-19 masks. They're no substitute for the masks required to keep yourself and others safe. Mouths and noses should be covered as always.
So whatever you decide to do, we wish you a scary but safe Halloween 2020!
Until next time,
Your SZW Team
SZW Insurance is your Utica area Trusted Choice™ independent insurance agent. Call us for a quote on insurance for your home, car, business, or life at 315.792.0000. Or request a quote here. In Westchester County call Zak Scalzo at 914.246.0315 or email at zaks@szwinsurance.com.