Your Utica Area Emergency Car Kit
January 15, 2019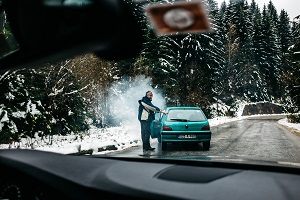 A friend of ours tells the story of his perilous trip back to Utica from Lake Placid a few years ago. He was on business and driving on a weekday with little traffic. He had stayed overnight in Placid to head home the next morning to avoid driving at night.
But the temperature plunged next day to 30 degrees below zero! He drove a small car with tires that, as it turned out, were worn and in need of replacement. And this was just before everyone had a cell phone.
As anyone who has driven through the Adirondacks knows, there's not much between villages. The scenery is beautiful, but desolate. As it turns out, he made it back to Utica in one piece, but, needless to say, the ride was harrowing.
If he had broken down or gone off the road, he could have frozen to death. The story got us thinking about supplying your car with an emergency kit. Especially if you're driving in isolated areas like the Adirondacks. And don't forget, cell phone service is spotty in many parts of the mountains.
So we went to the websites Ready and the National Safety Council for advice as to what to include in an emergency kit for your car.
Here's what we found:
Emergency Kit for Your Car
Jumper cables
Flares or reflective triangle
Ice Scraper and snow brush
Shovel
Car cell phone charger
Blankets
Warm clothing
Map
Cat litter or sand for better tire traction
Spare tire, wheel wrench and tripod jack
Tool kit and/or a multipurpose utility tool
Flashlight and extra batteries
Compass
First aid kit with gauze, tape, bandages, antibiotic ointment, aspirin, nonlatex gloves, scissors, hydrocortisone, thermometer, tweezers, and instant cold compress.
Non-perishable, high-energy foods, such as unsalted nuts, dried fruits, and hard candy.
Drinking water
Reflective vest in case you need to walk to get help.
Fire extinguisher
Duct tape
Rain poncho
This may seem like a lot, but when you pack it right it really won't take up too much space. You certainly won't regret it if anything happens and you need it.
You might think that most of your driving is around town, so why go to the trouble of an emergency kit? Well, we're also reminded of winter storm Stella on March 14, 2017 that dumped 33 inches of snow in the Utica area in just one day.
Roads became impassible and people left their cars to walk to shelter. This would have been the time when you might be grateful for that extra clothing, a flashlight, and flares in your emergency car kit in the trunk.
Preparation is the name of the game for us. After all, we're in the insurance business! So get your kit together starting this week so if anything happens on the road, you'll be ready…and safe.
Until next time,
Your SZW Team
SZW Insurance is your Utica area Trusted Choice™ independent insurance agent. Call us for a quote on insurance for your home, car, business, or life at 315.792.0000. Or request a quote here.