Safe Sledding for Utica Area Snowmobilers
January 8, 2019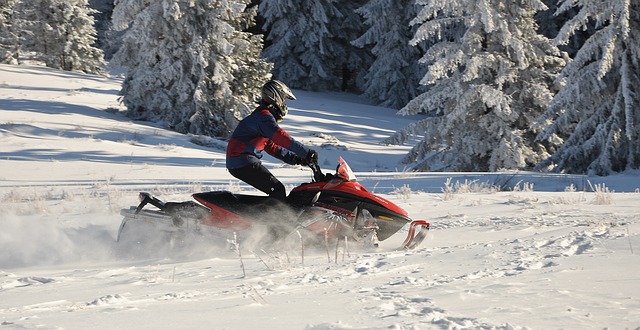 Early this winter season there were three fatalities in the Old Forge area caused by snowmobile accidents. Now that the holidays are over we thought it would be a good idea to talk safety. To remind our Utica area snowmobilers that smart sledding adds up to great outdoor fun.
We went to the Safe Riders' website where we found an online course that is a valuable reminder on what you need to do to stay safe. Thing is, as every snowmobiler knows, their sled goes lightning fast on often thin trails. The wrong split-second decision can have disastrous consequences.
So here are some tips from the course. Our intent here is to introduce you to snowmobile safety. We highly recommend you go to the site for the complete course.
Riding Apparel
A friend of ours happened to have visited Old Forge during that weekend of the fatalities and noticed the village full of snowmobilers. He was impressed that they all seemed dressed appropriately. Everyone had layers of apparel against the cold and proper eye protection and headgear.
Riding Tips
Get your snowmobile pointed in a safe direction. This seems obvious but then when you think about how fast your sled picks up speed, it's good idea to always keep where your sled is pointing in mind.
Speaking of quick starts, always hold the handle bar with one hand while starting the sled with the other. This keeps you in control, even if the throttle sticks.
Make sure the throttle isn't frozen by depressing and releasing it to see that it returns quickly to the idle/starting position.
When riding in a group, stay in single-file, so you'll always avoid any oncoming traffic. And give yourself enough space between you and the sled in front of you. Use the 3-second rule. When the rider in front of you passes an object, count 3 seconds before you should pass the same object.
Night Riding
Make sure all of your lights are working and keep snow and ice off them.
Don't drive as fast at night as you do during the day. Visibility just isn't there at night. A snowmobile headlight illuminates about 200 feet in front of you. If you travel over 45 miles per hour, you're overriding your headlight. That means you're passing through the area you're able to see faster than you can stop safely.
Remember that wildlife tends to also travel at night. Be ready to stop quickly if an animal darts out in front of you.
Snow Conditions
You probably love the powder, but it can linger in the air after you drive through it, reducing visibility for you and riders behind you. So be alert. If you're behind another rider, add more space to the 3-second rule mentioned above.
Wet snow can reduce visibility and make steering more difficult. It can also increase the risk of hypothermia, so dress properly in waterproof gear.
Ice forms on hard-packed trails and roads and is dangerous for snowmobiling. Watch for it and slow way down when you travel across it. When you're on the lake be sure of adequate ice thickness and watch out for bare ice. It can cause your sled to spin or skid out of control.
Worn trails with mixes of snow and dirt also make it harder to steer. So slow down and check your sled for damage after riding over light snow pack and dirt.
Snowmobile Insurance
So what if you do have an accident? How does the insurance work? Check out our blog post from a few months ago. We explain the mandatory requirements in New York State and all of your options with bodily injury and property damage liability plus insurance on your sled.
Questions on the insurance? Give us a call at 315.792.0000. And have a safe and fun rest of the snowmobile season!
Until next time,
Your SZW Team
SZW Insurance is your Utica area Trusted Choice™ independent insurance agent. Call us for a quote on insurance for your home, car, business, or life at 315.792.0000. Or request a quote here.