Utica MHA and SZW Deliver Christmas Cheer in 2018
December 18, 2018
What a wonderful Christmas this year with some special residents of the Utica Municipal Housing Authority (MHA). Our staff visited two families last week, both single, working mothers who have moved into new apartments but didn't have much furniture. We were excited to help and get to know these mothers and their kids.
It's all a result of our annual Casual Day Project. Everyone in the agency contributes $5 per month for the privilege of wearing jeans on Fridays. At the end of the year and with the help of our friends at the MHA, we buy gifts for deserving families.
Cathy LeTray, Claims Manager, is our Casual Day coordinator. We'll let her tell you all about it.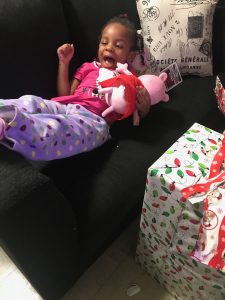 "Ketlyne is the single mother of a three year old daughter. Augustine is a single mother of a four year old daughter and has recently had her one year old nephew come live with her.
"Both families will be receiving a new sofa and loveseat. Ketlyne needed a kitchen table and chairs. Augustine needed dressers for the kids. Along with these large items we purchased new kitchen items for the moms: pots, pans, dishes, glasses, and silverware.
"We got towels and shower curtains to update their bathroom and each mom got a bag full of little items for the kitchen. These included everything from measuring cups to cutting boards with matching kitchen towels.
"Best of all, the children each got clothes and toys from their wish list. Santa was very good to the kids this year 😊."
Cathy goes on to praise the MHA…
"I have to tell you that the Utica Municipal Housing Authority has a great give back program! They started doing this when they took odds and ends from their own homes to give to people in need. Now it has grown to a full day of deliveries throughout the housing authority.
"The workers pay attention to those who may need something and it magically appears. They are the best group of people. Just taking the time in this busy world to notice that someone's table is broken and they may need a new one. That single mom who is without things that we consider basic needs.
"I remember the first year we bought a kitchen table and chairs, but when we went to deliver it the family had already just purchased them. The MHA guys delivering with us said that they knew of a family not on the list that needed them. So we brought the table and chairs in and left them. Imagine their surprise when they came home to a new table and chairs!
"It is definitely a feel good day that makes the holidays for me."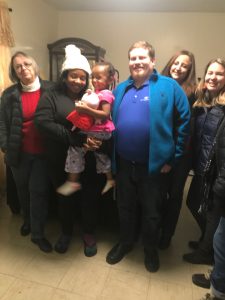 As far as we're concerned, that's what Christmas is all about. The wonderful feeling that comes from working with people like those at the Utica Municipal Housing Authority. People who take the time to notice others in need. And giving to fellow Uticans who appreciate what most of us take for granted. The smiles on the kids were pretty terrific, too!
Thanks Cathy, for your work as Casual Day Coordinator. And a special thanks to the Utica MHA for helping us help others at Christmas.
And so, to everyone in the Mohawk Valley, Merry Christmas from all of us at Scalzo, Zogby & Wittig!
Until next time,
Your SZW Team
SZW Insurance is your Utica area Trusted Choice™ independent insurance agent. Call us for a quote on insurance for your home, car, business, or life at 315.792.0000. Or request a quote here.