Why Keep Track of Your Home Contents?
February 28, 2023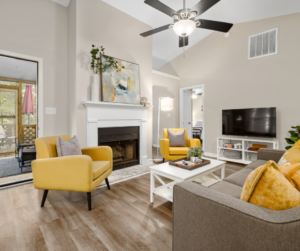 A serious fire at home is a complicated, devastating financial loss. That's one of the reasons customers feel comfortable doing business with us. Our inhouse claims manager, Cathy LeTray, guides our insureds every step of the way through the claims process.
But even with that valuable help, it's also a time consuming job for you. You have to deal with contractors and suppliers when reconstructing the house.
And not only do you have to value the items you lost in the fire, but also remember what you had. This can be much harder than you think.
That's why keeping track of your home contents is so important for insurance purposes. Not only does it prove what you lost, but it also assures you get paid the amount of damages you deserve.
So here we offer some steps you can take to keep track of your home contents:
Take an Inventory
Create a list of all the items in your home. This should include the item name, description, purchase date, and value. You can use a spreadsheet or a home inventory app to create your list.
There are many online home inventory apps to choose from. Here's a review from NerdWallet for a list of free options. And from KimKomando for some free apps and some that charge a fee.
Take Photos and Videos
Take photos and videos of each item in your home. This will provide additional proof of ownership and help you remember what you had in the event of a loss.
Keep Receipts
Keep receipts for any big-ticket items you purchase. This will help you establish the value of the item for insurance purposes.
Update Your Inventory Regularly
Make sure to update your inventory as you purchase new items or get rid of old ones. Make it a habit to record purchase prices and save receipts.
Store Your Inventory in a Safe Place
Keep a copy of your inventory, photos, videos, and receipts in a safe place such as a fireproof safe, another location, or a cloud-based storage service.
Review Your Insurance Policy
Make sure you understand your insurance policy and what is covered. If you have any questions, reach out to your insurance company or agent for clarification.
By taking these steps, you can ensure that you have a complete and accurate record of your home contents for insurance purposes. This will make the claims process easier and ensure that you receive fair compensation in the event of a loss.
When it comes to reviewing your insurance policy, give us a call.
We'll answer all of your questions. For example: Can we save you money with higher deductibles? Are you taking advantage of all the homeowner credits available to you? And most importantly during these inflationary times, are you covered for the right amounts of insurance?
We can also talk about bundling your home with your car insurance. Not only do you enjoy the time saving convenience of having one insurance company. You also save money.
So during these "cabin fever" months of winter here in the Utica area, why don't you get going on that home inventory. If a disaster happens, you will be glad you did!
Until next time,
Your SZW Team
SZW Insurance is your Utica area Trusted Choice™ independent insurance agent. Call us for a quote on insurance for your home, car, business, or life at 315.792.0000. Or request a quote here.