Tips For an Energy Efficient Home Remodel
April 5, 2022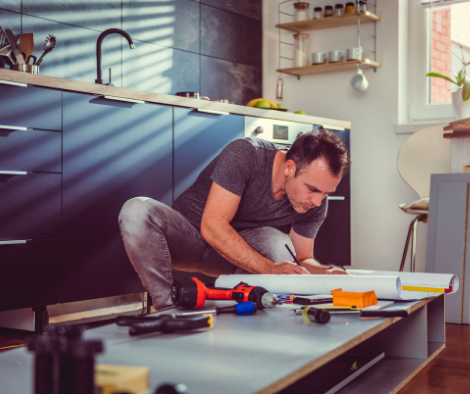 A friend of ours spent last summer getting his kitchen remodeled. That included knocking everything out down to the studs. And new windows and window placement. Doors inside and out and new door placements. New ceiling, floor, countertop, appliances…the works.
He hadn't thought much about energy efficiency. We got curious. Could he and his wife have changed anything energy wise. Made a more environmentally sound renovation?
We checked with the U. S. Department of Energy. We found tips on how to incorporate energy efficiency into an extensive remodel. You can use these as you plan your renovation. And apply them as best you can to the rest of your home. All of this before your contractor begins work.
The advice for a major renovation is to think in terms of a whole-house systems approach. This includes:
Appliances
A complete kitchen remodel usually includes all new appliances. So make sure you're buying the most up-to-date, energy efficient ones available. That goes for the refrigerator, dishwasher, and stove.
Notice the microwave isn't included? That's because there isn't a lot of difference in microwave efficiency. But for the others, how do you know you've got energy efficient models? That's easy, look for the EnergyStar label and you'll know you've got the latest in efficiency.
Another energy saving tip is to not get the ice-maker in the refrigerator. It increases energy use and causes leaks. But this may not sit well with those who get tired of buying bags of ice. Or fiddling with plastic ice makers.
Finally, induction stoves are the most efficient available today. Yes, they are more expensive than traditional gas and electric stoves. But they do have extra features you may like.
Lighting and Day Lighting
This one is easy. About 15% of the average home's electricity cost is in lighting. To save, all you have to do is switch to LED lighting. The average household saves approximately $225 per year by switching to LED.
Lighting is important in your new kitchen, so let it shine brightly with new LED lights.
Windows, Doors, and Skylights
The arrangement of windows and doors in a building is called fenestration. You can get performance ratings for your windows and doors from the National Fenestration Rating Council (NFRC).
You can research the best ratings based on where you live. We found a handy website that you can use to get the right windows for your home. And best of all, specific for our climate here in the Utica area. It's called the Efficient Windows Collaborative from the NFRC.
Your renovation is also a great time to think of orienting your windows to collect solar energy. Have them face within 30 degrees of true south. And make sure they're not shaded with trees or other buildings during the heating season.
How To Pay for Energy Efficiency
There are federal and state incentives to help you pay for energy efficient products and improvements. That includes rebates, tax credits, savings programs, and special financing.
While we're speaking of financing, call us if you're planning a major home renovation. We'll review the replacement cost of your home to be sure you're carrying the right amount of insurance. If we don't have your homeowners insurance now, no problem. Give us a call at 315.792.0000 for a quote.
And enjoy that new, energy efficient room!
Until next time,
Your SZW Team
SZW Insurance is your Utica area Trusted Choice™ independent insurance agent. Call us for a quote on insurance for your home, car, business, or life at 315.792.0000. Or request a quote here.