Spring Cleaning: Thoughts of Home, Your Possessions, and Home Insurance
March 29, 2022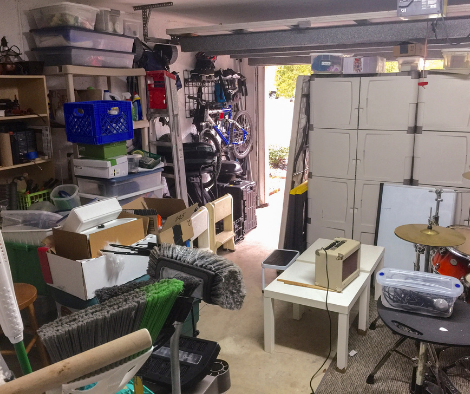 It's too cold to be cleaning out the garage in winter. But come spring, it's time to tidy up! We take stock. Decide what to keep and what goes in the trash. Or think about a donation to our local Habitat for Humanity ReStore on French Road in Utica.
So while you're mired in all of your stuff, consider this. It's a good time to think about reviewing your homeowners insurance. Approach it from this angle. Your homeowners insurance policy is designed to pay for damage to your home and its contents.
That's fine, but what if your home is destroyed in a fire? You want to replace it and every item you've lost. But what about coverage amounts? Do you have enough? Will the money be there to replace your home at today's construction costs? And can you replace all of its contents lost in the fire?
So during your spring cleaning, think about creating a home inventory. A list of all of your belongings. And put the list off premises. Thing is, if you lost all of your possessions in a fire, would you even remember everything you had? Probably not.
A comprehensive list makes it easier to settle your insurance claim. The process will go faster and you'll get every dollar you deserve.
Home Insurance Inventory of Your Possessions
We checked in with the Insurance Information Institute for a few tips on starting a home inventory:
Pick an easy spot to begin. Your small appliance cabinet in the kitchen or sports equipment closet. Or maybe the larger furniture in the living room is easier for you. Either way, getting started is the key.
Start saving recent purchase receipts. This automatically creates an inventory file.
Include where you bought item, make and model, and what you paid in your inventory description.
List clothing by category of items.
Include serial numbers of electronic equipment and major appliances.
Remember certain items such as jewelry, silverware, collectables, guns may have limited coverage amounts.
Remember to include items offsite. Items in storage are covered.
Home Insurance Rebuilding Cost in the Utica Area
Construction costs have skyrocketed during the two years of the COVID 19 pandemic. Homeowners who have remodeled recently know that very well! So along with your home inventory, make sure your home insurance dwelling coverage is high enough.
And speaking of a remodel. If you've redone the kitchen or bathroom or added another room to the house, give us a call. We'll go over our cost estimators with you to determine your home's current replacement cost. At current construction costs, you may be surprised. This is especially true if you've owned you home for any length of time.
Remember, it's not market value we're concerned with. Your homeowners insurance carrier pays damages at the same location. That's what we mean by replacement cost. It doesn't purchase another house somewhere else.
Homeowners Insurance Liability Coverage
You've asked your neighbor to help you clean out the garage. He cuts himself on a saw hanging behind the ladder. He sues you for permanent damage to his hand. That's where your liability coverage comes in. The thing to consider here is that liability coverage is relatively inexpensive. So you can get more coverage without breaking the bank.
We also strongly encourage you to get quotes for a Personal Umbrella Liability policy. That covers over your home insurance and car insurance.
Scalzo, Zogby & Wittig, the Mohawk Valley's Local Independent Agent
One of the most important advantages you have doing business with us is that we're local. Insurance gets complicated, which is why it's nice that we're here to answer your questions. We know our tough winters and wet springs…we live here too!
So give us a call. We're at 315.792.0000. We'll talk about your home insurance policy and getting the right coverages at the best price. And we'll answer all your insurance questions.
So think inventory while you're cleaning out that garage this spring!
Until next time
Your SZW Team
SZW Insurance is your Utica area Trusted Choice™ independent insurance agent. Call us for a quote on insurance for your home, car, business, or life at 315.792.0000. Or request a quote here.