The Right Home Insurance Protection in the Mohawk Valley
December 1, 2020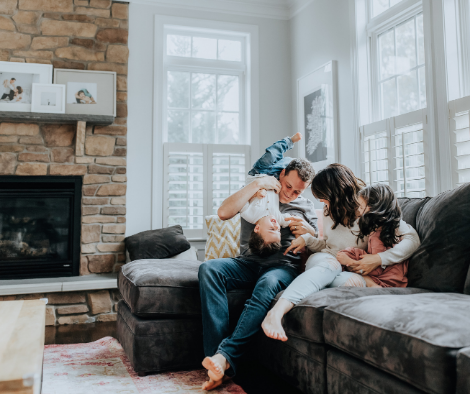 Home sales were up in October! The November 30, 2020 Central New York Business Journal has closed home sales in New York State up nearly 17 percent. And pending sales up almost 39 percent.
Though the number of homes sold in Oneida County in October of 2020 was down from October of last year, the median sales price increased about 9 percent. That's $161,000 from $148,000 a year ago.
We've noticed in our agency that Utica area folks are buying larger homes for their growing families. It makes sense with interest rates so low. And with prices of homes going up, people are thinking that waiting will cost them money.
So all of this good news got us thinking about homeowners insurance. The big worry for homeowners in the Mohawk Valley is getting the right amount of protection. Our customers do not want to suffer major a financial loss if a disaster happens to their house. They want full value.
Same with personal belongings. Depreciated loss settlements don't cut it. They ask us for full replacement cost on their furniture, appliances, and the rest of their "stuff."
The problem is, every house is unique. And you have to remember that as your insurance agency, we are here to help you replace what was damaged. So it's construction costs that matter, not market value.
The good news is that we're familiar with local building costs. And we have accurate replacement cost estimators. These help you determine how much insurance to place on your home.
When it comes to the contents, we ask about collections or fine jewelry. We point out that there may be limits on these kinds of items. Often our customers decide to get appraisals and insure their jewelry or collections separately.
And what about 21st century marvels only thought of in science fiction a few short years ago? With smart home entertainment equipment, appliances, and computers, lots can go wrong. We're thinking of power surges, power cuts, or internal seizures on hard drives.
Standard homeowners policies don't usually cover equipment breakdown. But we offer Equipment Breakdown and Service Line Coverage that fills the gaps.
Also realize that home ownership brings responsibility for the safety of others and their property. Thing is, things happen. Friends come over and their child trips on your front steps. Your neighbor suggests you get your dead tree taken down before it falls on his property. But you fail to remove it before it crashes into his house. You end up liable for the damages.
This is where the personal liability section of your homeowners insurance policy comes in. There are many options available to you at relatively low cost. We suggest you get the highest amount of liability coverage you can afford.
And speaking of bad things happening, working at home may require a business insurance policy on your equipment and liability risks.
Finally, we add up the ways we can save you money. Higher deductibles often make sense. Placing your car insurance in the same company as your home insurance saves with package discounts. And there are new home and protective device discounts.
So if you're "moving on up" here in the Mohawk Valley, give us a call. There's lots to talk about when it comes to protecting your home, its contents, and your liability exposures.
It's our goal to get you the right homeowners insurance for the best price. So give us a call today!
Until next time,
Your SZW Team
SZW Insurance is your Utica area Trusted Choice™ independent insurance agent. Call us for a quote on insurance for your home, car, business, or life at 315.792.0000. Or request a quote here. In Westchester County call Zak Scalzo at 914.246.0315 or email at zaks@szwinsurance.com.