Special Thanks for Crazy 2020
November 23, 2020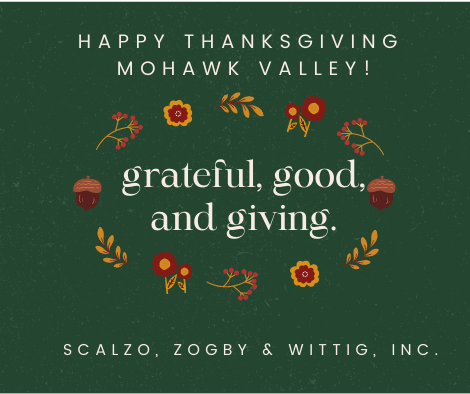 At Scalzo, Zogby & Wittig we're especially thankful this year. One big reason is our talented staff. Like other Mohawk Valley businesses, we had to follow New York State's COVID 19 protocols. That meant shifting our account managers, claims representative, and back office staff. They went from the office at Lomond Place to working at home.
They had to figure out the best way to serve customers by adjusting the way they did business. They came through with patience and understanding. And a willingness to work with each other.
So this Thanksgiving, we're sincerely grateful for our bright, resourceful employees.
There's another reason we give special thanks in 2020. Our customers have shown us an abundance of patience during all of this. Even though we closed the office to personal visits, they stuck with us during this oddest of years.
So this Thanksgiving, we're genuinely grateful for our loyal customers.
There's something remarkably special about the greater Utica area. Our employees and customers graciously helped us carry on under difficult circumstances. Generosity seems to have come naturally to them.
Thing is, people in the Mohawk Valley stick together. They help each other out. We know that firsthand from our work with so many wonderful community organizations. They successfully garner the support of thousands. So many Central New Yorkers who donate, run and walk, and volunteer for good causes.
We have one regret, though. For many of us, a traditional Thanksgiving with friends and family may not happen this year. Missing will be the cheerful, festive atmosphere. The lively face-to-face conversation.
But on the other hand, we're sure resourceful Central New Yorkers will get creative. How about Zoom at the table as family from around the country get together online in spite of the pandemic. Or a more intimate Thanksgiving with just the two of you.
Whatever way you celebrate, we encourage you to stay positive, optimistic. Keep thanks in your heart. People in the Mohawk Valley are tough cookies. We'll get through all of this soon enough.
Until then, Happy Thanksgiving to our customers, friends, and family!!
Until next time,
Your SZW Team
SZW Insurance is your Utica area Trusted Choice™ independent insurance agent. Call us for a quote on insurance for your home, car, business, or life at 315.792.0000. Or request a quote here. In Westchester County call Zak Scalzo at 914.246.0315 or email at zaks@szwinsurance.com.