Before You Hit the Snowmobile Trails in New York
November 16, 2020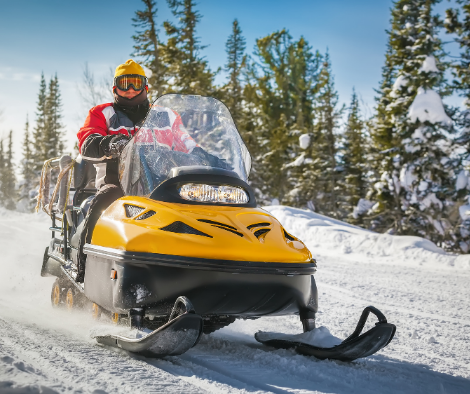 What's one of the great advantages of a Central New York winter? Some of the best snowmobiling in the country. Ever go Christmas shopping in Old Forge? If the snow is good, the place is packed with snowmobilers!
But there's more than just Old Forge. Just head up to Speculator, Long Lake, and Lake Placid for gorgeous winter rides. And it's not only the Adirondacks. There's the Tug Hill Plateau (which gets over 200 inches of snow per year!), the Catskill Mountains, and Lake Erie.
So before you hit the trails…
New to Snowmobiling in New York?
We found a program sponsored by the NYS Snowmobile Association called "Take a Friend Snowmobiling." These are events hosted by local clubs during January, February, and March. They're designed to get new snowmobilers and ones who haven't done it in a while back into the game. The schedule will be posted as the winter season approaches.
New York State Registration Requirements
In New York you must register your snowmobile. Visit the DMV website to get details. You'll need a Snowmobile Registration Application, proof of ownership, proof of identity and age, and payment.
If you're not a New York State resident a temporary 15-day registration is available. Check this section of the DMV website for everything you need to register online.
Snowmobile Insurance Required in New York State
Proof of insurance must be carried by snowmobilers at all times. There are minimum limits of liability required in New York. They are $10,000 for one person's injuries or death and $20,000 for two or more persons. In addition, at least $5,000 for damage to other people's property.
We recommend much higher limits than the minimum. But don't worry, we have reliable insurance companies that offer very good pricing.
For example, we apply money saving discounts for snowmobile safety courses and clean driving records. Also multi-policy discounts if we have you home, renters, car, or boat policies.
We also recommend Medical Payments coverage and Uninsured/Underinsured Motorist Bodily Injury coverage. This pays if you're injured by another rider with either no insurance or limits less than yours. You sue and get the lower limit of their policy and then yours kicks in to pay the balance.
Thing is, many riders have low limits of liability. To protect yourself, we highly recommend Uninsured/Underinsured Motorist.
Another important coverage is Comprehensive and Collision. The Comprehensive pays if your sled is stolen, vandalized, or maybe struck by a falling tree limb. Collision pays if you damage it in a collision with another vehicle or object. Sleds are expensive these days so this is a coverage that you really should think about. Of course, if you have financing, your bank will probably require it. But our rates are also good on snowmobile Comprehensive and Collision.
We can even insure any custom parts and equipment or accessories. Just let us know their value and we'll give you a quote.
We hope for a good snowmobiling season this year with plenty of snow and groomed trails. But before it starts, call us for a quote. We'll get you the right coverage for the best price. And you'll be ready to go!
Until next time,
Your SZW Team
SZW Insurance is your Utica area Trusted Choice™ independent insurance agent. Call us for a quote on insurance for your home, car, business, or life at 315.792.0000. Or request a quote here. In Westchester County call Zak Scalzo at 914.246.0315 or email at zaks@szwinsurance.com.