Thanksgiving 2021…Together Again!
November 23, 2021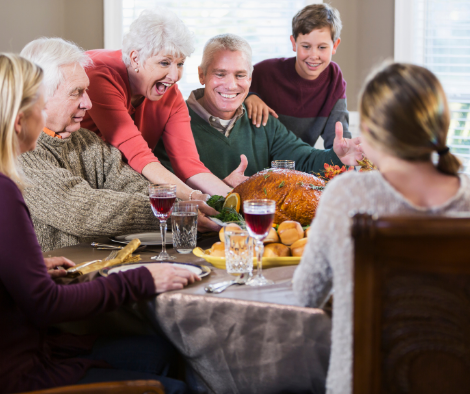 Moms and Dads, sisters and brothers, nieces and nephews, grandma and granddad, all coming together this Thanksgiving. Finally!! What a long, strange trip it's been. (Well said, Jerry Garcia!)
As Mohawk Valley families gather this year, we're reminded of a post we published on our blog a few years ago. The national news at the time was as disheartening and controversial as it is today. So we suggested that families talk about something different. Something outside of "the daily, diabolical machinations of Washington, DC."
The idea was that we would offer you a list of prompts that you could use to start fun conversations. Many are homegrown, about the Utica area. So forget the politics, let's talk Mohawk Valley!
Mohawk Valley Table Topics for Thanksgiving 2021
The Utica Comets just broke the AHL all-time record for consecutive wins to start the season. Are you interested in going to a game this year? Even if you're not a hockey fan?
Wolfspeed (formerly Cree) has built a new plant in Marcy. They make Silicon Carbide wafers for electric cars. Do you see the Mohawk Valley on the verge of an economic renaissance?
Did anyone do any home improvements during the last year? Was it hard to get materials and appliances?
If you're working at home, what are the 3 biggest changes from working at the office?
What's your favorite new-to-the Mohawk Valley store?
What are your Super Bowl picks this year?
Anyone have winter vacation plans?
How did all that rain we had last summer effect you?
The Utica area is known for its restaurants. What's your favorite?
What's your latest binge watch on TV?
What's the one thing that you really appreciate about living in the Mohawk Valley?
What do you like about the change in seasons? Dislike?
If you could learn a new skill this year, what would it be?
What is your favorite family tradition?
So enjoy the conversation. Keep up the good cheer about our wonderful Mohawk Valley.
And let us take this opportunity to thank all of our customers. We greatly appreciate your business and wish you one of the best Thanksgivings ever!
Until next time,
Your SZW Team
SZW Insurance is your Utica area Trusted Choice™ independent insurance agent. Call us for a quote on insurance for your home, car, business, or life at 315.792.0000. Or request a quote here.