Secrets to Better Driving During Utica Area Winters
November 30, 2021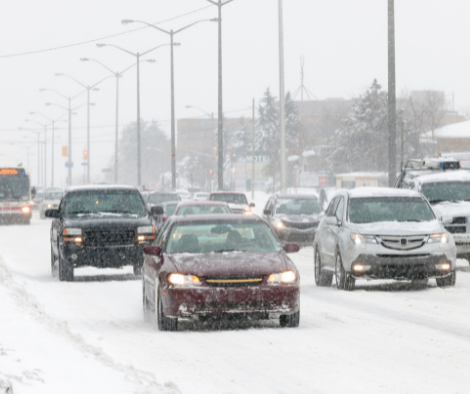 Predictions for this winter in Central New York are that it will be a bit warmer with more snow. Sounds like that will make for sloppy road conditions throughout the Mohawk Valley. So we thought it a good idea to remind drivers of some life saving winter driving tips.
As we all know, driving on snow and ice is completely different than blissful summer travel. Need proof? Research by the AAA Foundation for Traffic Safety found that messy winter conditions were a factor in nearly 500,000 crashes per year. And more than 2,000 deaths.
What You Can Do To Stay Safe on Utica Area Winter Roads
Think Slow
Drive slower when the roads are bad. Even if you have a larger car with snow tires that offer better traction. Smaller cars are not as good in the snow. It's dangerous to fly by slower traffic trying to stay steady in icy conditions.
Accelerate and decelerate slowly. This allows you to gain traction and avoid skids.
Increase your following distance. AAA recommends five to six seconds. (This is up from the minimum 3-second-rule the National Safety Council recommends.) Six seconds provides the distance you'll need if the vehicle in front gets into trouble and skids to a stop.
Keep the heel of your foot on the floor when braking. Use the ball of your foot to apply steady pressure on the brake pedal.
Think Inertia
Warning: this takes some practice. But it's better to slow up without stopping to make the green light. It's easier to slow down and then regain speed rather than having to stop and start from a standstill on an icy road.
Same thing with taking a hill. Try to gain speed before your reach the hill. That way you don't have to hit the gas as much to make it up. Remember, powering up while on the hill can make the tires spin.
And do what you can to not stop while going up a hill. It's often next to impossible to start from a dead stop in the middle of the hill. So do the same as above, try to build speed on the flat before you hit the incline.
Did you know that as the temperature gets colder your tire pressure goes down? So make sure tires have air based on the recommendations in your owner's manual. (Also found on the driver's side door frame.)
Your younger children have on their winter coats when you place them in the car seats. The problem arises when they have on bulky coats. Puffy material means a loose fitting harness. So it's better to outfit them in a thinner, lightweight jacket. Less material makes it easier for a proper fit into the seat. Then place blankets around them for extra warmth.
Battery power drops in colder temps. And your engine takes more battery power to start. So get your battery checked to be sure it offers peak performance.
In the winter, condensation can form in the empty part of your gas tank. This can freeze the gas lines. So keep your tank at least half full at all times.
The start of winter may also be a good time to double check your car insurance. Do you have enough liability protection based on your income and assets? What about loss of wages and medical benefits in your no-fault coverage? And physical damage on newer vehicles.
If we don't have your car insurance now, give us a call. We'll give you a second opinion on coverages and see if we can save you money.
So enjoy the holiday season and stay safe Mohawk Valley!
Until next time,
Your SZW Team
SZW Insurance is your Utica area Trusted Choice™ independent insurance agent. Call us for a quote on insurance for your home, car, business, or life at 315.792.0000. Or request a quote here.