Safety Features to Look For When Car Shopping
May 17, 2022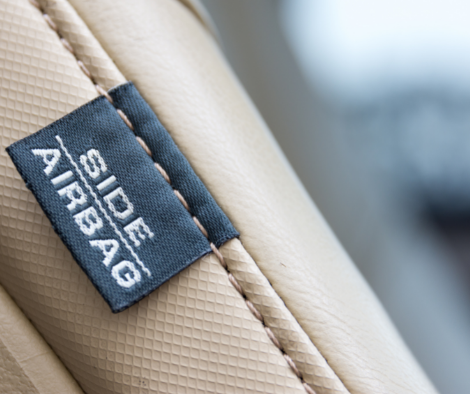 Ask people what makes one car safer than another, you'll often get the same answer. The bigger the vehicle the safer it is. Common sense tells you that's true. And, as it turns out, so do the studies.
According to the Insurance Institute for Highway Safety (IIHS), "A bigger, heavier vehicle provides better crash protection than a smaller, lighter one, assuming no other differences." There are a few reasons for this. In a crash with lighter vehicles or other obstacles, larger vehicles will continue to move forward. So there's less force on the people inside.
Also, drivers and passengers in bigger vehicles are farther from the front. This offers them better protection in frontal crashes. So the first safety consideration when shopping for a car is its size. Small vehicle construction has gotten better, a but a bigger car has the advantage.
What else should you consider if you're looking for a safer car?
Restraint Systems
One is its restraint systems, the belts, airbags, and head restraints. The Insurance Information Institute (III) recommends lap/shoulder belts with belt crash tensioners. These quickly activate during a collision to cut slack and stop forward movement.
Airbags and Head Restraints
Another safety consideration is distance from the steering column. Sitting too close to a deploying airbag can actually cause injuries. Pick a car where you can easily reach the gas and brake pedals. If you're scrunching right up to the steering wheel, it's not the car for you.
Speaking of airbags, look into side airbags. They'll better protect your chest and head. And make sure the head restraints can be locked into place. If they don't lock they can get pushed down in a crash, increasing the chance of an injury.
Brakes
Anti-lock brakes are mandatory in cars today. So you don't have to ask for them. But, it's a good idea to brush up on the technique necessary to use them properly.
You want to use hard, continuous pressure to activate them.
There are also more sophisticated braking systems available. They automatically engage cars to prevent accidents. And warning systems such as forward collision warning, lane departure warning, and blind spot detection systems. These alert drivers to impending dangers in traffic.
Backup Camera
Backup cameras have been mandatory in new cars only since the 2019 model year. So if you're buying a new 2021 or 2022 vehicle, you'll have this feature. But for older used cars, you'll have to check that it's there. These are especially effective in seeing people who have strayed into your path as you back out.
Get Safety Feature Credits On Your Car Insurance
Many of these safety features generate credits on your car insurance premium. Whether you're about to purchase a new or a used vehicle, call us before you buy. We'll let you know what the physical damage insurance would cost. This is the Comprehensive and Collision.
Remember, Comprehensive pays for theft, vandalism and other non-collision losses to your vehicle (but does cover damage if you strike a deer). And Collision covers damage to the vehicle as a result of an accident. We can give you quotes with different deductibles so you can choose a premium you're comfortable with.
Upshot: it has never been easier to get a safe car that's good looking and affordable. So enjoy the search for that new or used car. And keep safety in mind before you sign on the dotted line.
Until next time,
Your SZW Team
SZW Insurance is your Utica area Trusted Choice™ independent insurance agent. Call us for a quote on insurance for your home, car, business, or life at 315.792.0000. Or request a quote here.