Safer Rides for Motorcycle Passengers
May 4, 2021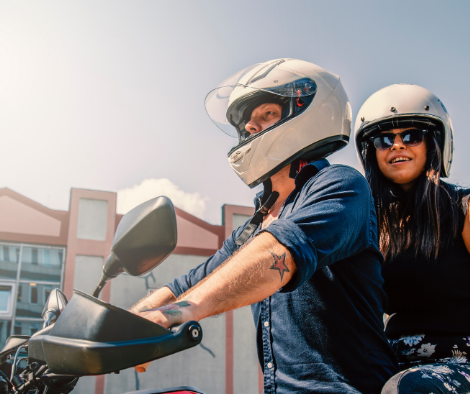 Freedom! That's what motorcycle riders feel. Alone out there in the wind, countryside flying by, making time cruising the highway. And it's even more fun riding with a favorite passenger.
There are lots of safety tips available for riders. But what about their passengers? We checked with the New York State DMV and found some tips on passenger safety that we thought we'd pass along to you.
How to Carry Motorcycle Passengers Safely
The extra weight of a passenger changes the way the bike handles. The balance, turns, and speed are affected. So first thing if you're an inexperienced operator, practice carrying a passenger before hitting the streets. Pick a large parking lot to get used to the different handling.
When it comes to the equipment on your cycle:
Get a proper seat. One that's large enough to hold you and your passenger without crowding. In other words, you should not sit any farther forward than you usually do.
Be sure you have foot rests for the passenger. Remember, not only can they suffer serious injury if they fall but they can pull you off, too.
The passenger should have the same protective gear you do. That includes helmet and protective clothing.
Adjust the suspension to handle the extra weight. And add a few pounds of tire pressure.
Finally, the motorcycle angle will change. So adjust the mirror and headlight while the passenger is on the seat.
What to Tell Your Motorcycle Passenger Before You Go
Get on the motorcycle after you've started the engine.
Sit as far forward as possible. But don't let them crowd you.
Hold tight to your waist, hips, or belt.
Keep both feet on the pegs, even when stopped.
Make sure they keep their feet away from the muffler(s), chains, or any moving parts.
Stay directly behind you and lean as you lean.
Don't talk or move unless necessary.
How Motorcycle Passengers Change the Ride
The thing with passengers is that your cycle responds more slowly when they're riding with you. The heavier they are the more they'll slow you down. So to compensate:
Take it slower. Especially on curves, corners, and bumps.
When approaching a stop, slow down earlier.
Ride with a larger cushion of space between you and the vehicles ahead.
Make sure there are larger gaps for you to maneuver before you cross, enter, and merge in traffic.
Motorcycle Insurance in Utica, New York
We hope you'll think seriously about protecting your passengers as you ride this summer. And yourself. Of course, accidents happen and we are here for you with the insurance.
We offer great rates on motorcycle insurance for residents of the Utica area. And we cover your bike and your liability. That includes:
Collision and Comprehensive Insurance on Your Motorcycle
Like car insurance, collision pays if your cycle is damaged in a moving accident. Comprehensive covers your bike for damage that isn't a result of an accident (except if you strike an animal). Perils such as theft, hailstorm, or a falling tree damaging your bike are covered under comprehensive insurance.
Bodily Injury and Property Damage Liability
This responds if you're sued for injuring others in an accident or damaging their property.
Uninsured/Undersinsured Motorist
This is where you can get relief if you're injured in an accident that's not your fault but caused by someone who doesn't have insurance. You can collect for medical bills and lost wages on your own policy.
There are more coverages available. These include full replacement cost, custom parts, and medical payments. Everyone's situation is different, so call us to assess yours. We'll get you the right coverage for the best price.
Don't forget, we're independent insurance agents. We represent you, not just one insurance company. We'll have our multiple companies compete for your business so you get the best deal.
Here's to that exhilarating sense of freedom you'll get this summer as you ride the highways and byways of Central New York.
Enjoy and stay safe!
Until next time,
Your SZW Team
SZW Insurance is your Utica area Trusted Choice™ independent insurance agent. Call us for a quote on insurance for your home, car, business, or life at 315.792.0000. Or request a quote here. In Westchester County call Zak Scalzo at 914.246.0315 or email at zaks@szwinsurance.com.