Safely Walking the Beautiful Mohawk Valley
May 15, 2018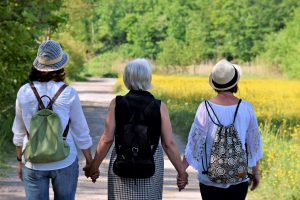 Our senior customers in Utica, New Hartford, Whitesboro, and Clinton remember that most kids walked to school in the 1950s-70s. At least they did if they lived anywhere near the school. Now you don't see as many kids on that short trek to and from classes.
Same with walking to the market, hardware store, or movies. All of that is a throwback to a past before every household was at least a 2-car family. In the 21st century, it seems like you have to drive to the grocery store, mall, and theater.
But walking has taken on a new cache as an excellent form of exercise. We even measure our steps with FitBit. The new N/S Arterial has built in pedestrian walkways. The Erie Canal's Canalway Trail is a scenic path for biking and walking either short distances or many miles with rest stops along the way.
We Love New York!
And New York State is developing pedestrian programs to encourage walking, including their Safe Routes to School Program.
We're glad walking is back in vogue. But what about pedestrian safety? And what rules should pedestrians follow to avoid accidents and possible injury? For example, if you must walk in the road, should you walk with traffic or against it? (See below for answer.)
We checked in with NY.gov and the Governor's Traffic Safety Committee. According to their website, New York State averages nearly 300 pedestrian deaths per year. Almost one a day.
So what are some good safe walking tips and rules for Central New Yorkers?
Pedestrians must obey traffic control signals, signs, and pavement markings when crossing a street.
When there is no traffic signal, drivers must yield right-of-way to pedestrians, especially when the pedestrian is in the crosswalk.
If there is no crosswalk, the pedestrian must yield right-of-way to all vehicles on the road.
All drivers approaching an intersection or crosswalk must yield to pedestrians with a guide dog or cane.
Drivers must always yield to pedestrians on a sidewalk when exiting an alleyway, building, private road or driveway.
Pedestrians are to use sidewalks whenever safely available.
When there are no sidewalks, pedestrians must walk facing traffic as far to the left as possible.
At crosswalks where there isn't a traffic signal, pedestrians have the right-of-way.
As you might guess, regardless of who may have the right-of-way, drivers are required by law to take great care to avoid hitting pedestrians.
What about insurance for walkers? You might be surprised to find out that your car insurance covers you and other members of your household for medical bills and loss of wages if they're struck by a car as pedestrians. It's part of your NYS Personal Injury Protection, or No-Fault.
If you do hit a pedestrian in your car, then your car insurance liability would cover you if you're at fault. If you're not sure about your limits of bodily injury liability, give us a call. If you're a current customer, we can quote higher limits or an umbrella policy.
If you're not a customer, give us a call anyway. We'll see if we can save you money and make sure you're adequately protected.
So get out there for a walk and enjoy the beautiful scenery here in the Mohawk Valley!
Until next time,
Your SZW Team
SZW Insurance is your Utica area Trusted Choice™ independent insurance agent. Call us for a quote on insurance for your home, car, business, or life at 315.792.0000. Or request a quote here.