Attention Senior Drivers in Central New York: It's Not You, It's the Car
May 8, 2018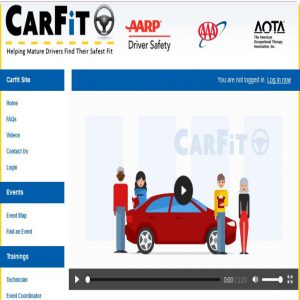 When it comes to seniors, we tend to concentrate driver safety on their physical and mental constraints. But then we ran across a terrific concept in driving safety for older drivers that we hadn't thought of before. It's all about the constraints in the vehicles themselves and the features that, if handled properly, add to safety.
We got thinking about all of this when we discovered the CarFit program for seniors. It's all about figuring out the best way for older drivers to work together with the features in their cars for safer driving.
In other words, "Does your car fit you?"
CarFit was developed by the American Society of Aging with AAA, AARP, and the American Occupational Therapy Association. It works with community volunteers to stage events where drivers are assessed for how well they work together with their car. The goal is personal comfort and safety.
As the CarFit website at AAA says, like a tailor fitting your clothes, CarFit offers minor alterations to your car to offer you a better, safer fit. It uses a 12-point checklist to help you with changes to your vehicle that will make you more comfortable and better able to drive safely.
For example, are you the only driver of your vehicle? If not, you must remember to make simple adjustments before you drive. For example, get the seat where you want it and the mirrors readjusted.
Or, the tilt of the steering wheel. If the tilt is too high, it may restrict vision or force you to sit uncomfortably. If it's too low, it may be difficult to get in or out of the car. Not every older driver is aware that the position for the steering wheel can be adjusted.
Then what about the rearview and side-view mirrors? The thing is, many senior drivers don't really know how to adjust their mirrors for the best side and rear views. And they're probably afraid to ask. As the saying goes, things are easy once you know how to do them. But it can be tricky figuring out today's cars.
But more importantly, there is a technology called the Blindspot Glare Elimination method, or B.G.E. This is for drivers who, because of arthritis or other movement limiting ailments, can't see in their mirrors as well as they should.
Here's how it works.
For the driver's side mirror, start in a parked position and rest your head against the closed window and set the mirror to barely show the edge of your vehicle.
To set the right mirror, lean to the right so your head is directly below the rearview mirror or above the center console. Then adjust the mirror the same way so you can barely see the right side of your vehicle. This angles your mirrors out more so you get increased coverage in your blind spots.
And most seniors are unaware of the way today's air bags work. Along that line, what is the best distance a driver should sit from the steering wheel? We want the airbag to minimize injury, not add to it.
The standard distance is to maintain 10 inches from the center of the steering wheel to your breast bone or sternum. But w hat if the 10 inches makes it difficult for you to reach the gas and break peddles? You can actually get gas pedal extenders to make your drive more comfortable and safe.
These are just a few of the tips available at the CarFit section of AAA. Check it out here where you'll learn about line of sight above the steering wheel, position to gas and brake pedals, the ignition key and more.
At SZW Insurance, we're advocates for anything that makes your driving safer. And that goes especially for our seniors here in the Mohawk Valley.
So set your car up for a comfortable and safe ride.
Until next time,
Your SZW Team
SZW Insurance is your Utica area Trusted Choice™ independent insurance agent. Call us for a quote on insurance for your home, car, business, or life at 315.792.0000. Or request a quote here.