Mom, They're Predicting a Tornado! What Should I Do?
May 3, 2022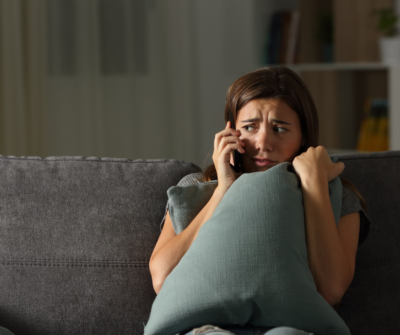 Disasters happen fast. Fire races through your home. Nearby creeks overflow after unrelenting rain, causing severe flooding. A tornado rips through the neighborhood, destroying everything in its path.
How will your kids react? Will they know what to do?
It is scary to think how, all of a sudden, a normal day can become so dangerous. This is why a family disaster plan is so important. And we're suggesting the whole family. Kids should be involved, too.
But how?
We checked with FEMAS's ready.gov for advice on creating a family disaster plan that works. The first concern is alluded to in the headline to this article: your kids may be home alone if a disaster strikes. So you should establish how you'll connect if separated.
It's recommended in the event of a major disaster affecting a whole community that you text rather than call. In an emergency, phone lines may be tied up. So not only may it be easier to text, but it keeps the phone lines open for emergency workers.
Establish an accessible, safe place away that the family could meet for protection or to reunite. Be prepared for any situation. So consider places in your house, in your neighborhood, and outside of your city or town.
And pick a contact that everyone can get in touch with. Someone out of town, away from the disaster. That could be another family member or friend. In this way everyone is calling the same person and he or she can coordinate communication.
Lastly, write down your plan. And hold regular family meetings to go over and practice it. The ready.gov/kids/make a plan pages have downloadable plans that you can complete. They include spaces for parents, siblings, and neighbors' cell phone numbers. And the contact info for the out of town relative or friend who coordinates communications for the family.
There's also an address for your meeting spot. And a place to map your home with exits for each room. This is especially important in case of a fire.
The point is that taking the time to talk about disaster plans…and decide on them with your kids…is the best way to prevent panic in an emergency. Your family members will have thought it through beforehand. They'll be more confident to make the right decisions if the time comes.
Another preventative measure is to call us to discuss your homeowners insurance plan. After the disaster, whether it's a fire or tornado, it would be time for repairs and rebuilding. Just as with your family disaster plan, you won't regret making sure you have the right protection for your home and contents. We can help you with getting the right coverage at the best price.
A word of caution: floods are not covered on your homeowners insurance policy. But we offer flood insurance and can help you get the coverage you need.
So call us to be sure you're getting the right protection at the best price. And go ahead and sit down with your family to discuss a disaster plan that may very well save a life.
Until next time,
Your SZW Team
SZW Insurance is your Utica area Trusted Choice™ independent insurance agent. Call us for a quote on insurance for your home, car, business, or life at 315.792.0000. Or request a quote here.