Mohawk Valley Celebrates Earth Day 2022
April 19, 2022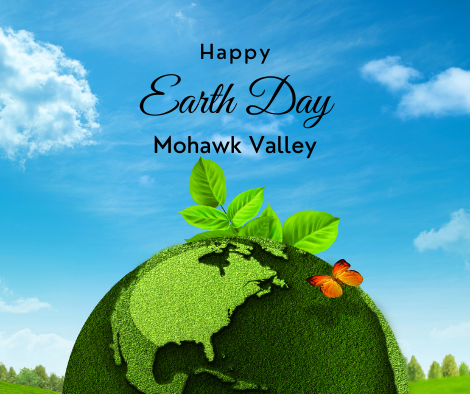 New industry is coming to the Mohawk Valley. And as EarthDay.Org says, "…a green future is a prosperous future." Many in the Utica area agree. As our region grows and people move into the area, keeping it clean becomes a top priority. That's why the Keep Mohawk Valley Beautiful Regional Clean & Green Effort is a big deal.
Earth Day is this Friday, April 22. It's a day to think about the climate and protecting the beauty of our community. So we were gratified to see so many organizations getting involved in the Clean & Green Effort. They're all volunteering their time to clean up our area.
For example, our friends at ARC Herkimer will be cleaning up around their Ilion facility. That includes the gazebo area, side street, alleyway, and other areas around ARC Herkimer Mall.
That's not the only local cleanup effort happening in celebration of Earth Day. We got a list of registered groups from the Oneida Herkimer Solid Waste Authority. The public is welcome to help. Most of the clean-ups are being held on Saturday, April 23. But note some different dates. Groups and clean-up spots include:
City of Rome meeting at City Hall 9:00 am.
Erie Canal Trail, North Utica
Town of Remsen
Utica Memorial Parkway Clean-up on 4/22 or 4/23
New Forest Cemetery, Utica
South Utica Clean-up with Celeste Friend
Midtown Utica Community Center at Kemble Park, Utica
Handshake City, Baggs Square, Utica
Mohawk Valley Latino Association, Utica at the Scott Street area on 4/29
CVA Honor Society and Mohawk Valley Rotary at Russell Park, Ilion on 4/30
T. R. Proctor Park, Utica on 5/7
Brewery District, West Utica with United Way Emerging Leaders on 5/14
The Solid Waste Authority does recommend participants wear protection such as masks and gloves during litter cleanups. And if you can't make the planned clean-ups going on throughout the Utica area, we suggest you tackle your own yard.
The first Earth Day was held on April 22, 1970. According to EarthDay.Org, that date marked the birth of the environmental movement. A movement originating in the bestselling book by Rachel Carson, Silent Spring. Published in 1962, it sold over 500,000 copies. It pointed out the links between pollution and public health.
Today most agree climate change and the environment are major concerns for the world. So it's good to see that Earth Day still motivates people in our community to get outside and help clean up.
We hope you will too. Weather permitting of course!! It's been cold and rainy, so we understand if you get delayed a few days. But no matter when you get out, we thank everyone involved in helping to keep the Mohawk Valley clean and beautiful!!
Until next time,
Your SZW Team
SZW Insurance is your Utica area Trusted Choice™ independent insurance agent. Call us for a quote on insurance for your home, car, business, or life at 315.792.0000. Or request a quote here.