It's Easy to Recycle Your Old Electronics
June 23, 2020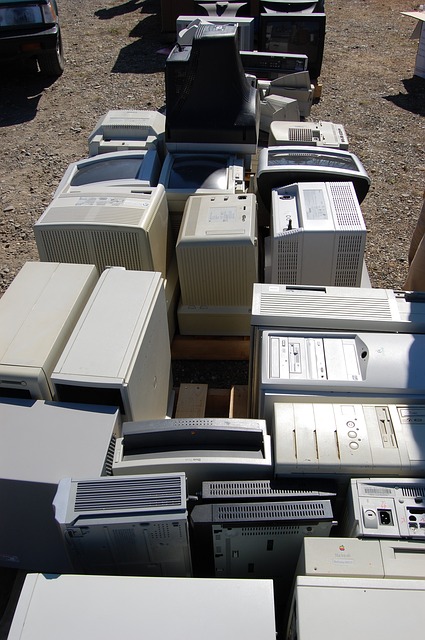 Are you upgrading to a new computer? Getting rid of that old one with the outdated software? You might be wondering if you should you just toss it in the trash. Or is there a better way.
First off, disposing of computer equipment in the regular trash is illegal. It's regulated in New York State by the NYS Electronic Equipment Recycling and Reuse Act. Recycling is the way to get rid of your electronic equipment.
That's because many electronics contain lead, mercury, or cadmium. These are safe in the equipment but hazardous when compacted at landfills.
According to the Environmental Protection Agency (EPA), recycling consumer electronics is environmentally friendly. For lots of reasons.
It conserves valuable materials such as metals, plastics, and glass. These all require energy to mine and manufacture. Greenhouse gasses are saved because new materials don't have to be manufactured. And it avoids air and water pollution.
The EPA says that recycling one million laptops saves the electrical energy equivalent of more than 3,500 U.S. homes in a year! And, every million cell phones recycled recovers 35 thousand pounds of copper, 772 pounds of silver, 75 pounds of gold, and 33 pounds of palladium.
We checked in with the Oneida Herkimer Waste Authority to find out about their electronics recycling program. You can deliver to the Authority at their EcoDrop in Utica or Rome. They accept unwanted or outdated electronics year-round. And it's free of charge.
Check their website for a complete list of acceptable materials. Here are a few:
Answering machines
Computers, monitors, keyboards, scanners, mice, speakers, cords and cables, printers/printer and toner cartridges
Fax machines
Battery chargers
Small kitchen appliances
Copiers
Paper shredders
Camcorders and video equipment
Phones
Holiday lights
Electric fans
Electronic gaming systems
DVD, Blu-Ray, & VCR players
There's much more. Check the list out at the link above.
Clean Your Old Computer of Personal Information
Before you recycle your computer, transfer your files to a new computer. Or back up important data in the cloud or on an external hard drive.
Then sign out of all of your online accounts. Un-pair your computer from mouse, keyboard, or wireless display. Then be sure you've deleted all your personal data.
Now that Microsoft isn't supporting its older Windows programs, buying a new computer may be a good idea. It will be loaded with the latest software.
And then take a drive to the Oneida Herkimer Solid Waste Authority. Recycle your old computer in an environmentally sound, efficient way.
Until next time,
Your SZW Team
PS Have hazardous household waste to dispose of? Check out our post on how to easily do that safely.
SZW Insurance is your Utica area Trusted Choice™ independent insurance agent. Call us for a quote on insurance for your home, car, business, or life at 315.792.0000. Or request a quote here. In Westchester County call Zak Scalzo at 914.246.0315 or email at zaks@szwinsurance.com.