Spring Cleaning in the Mohawk Valley and Hazardous Household Waste
March 26, 2019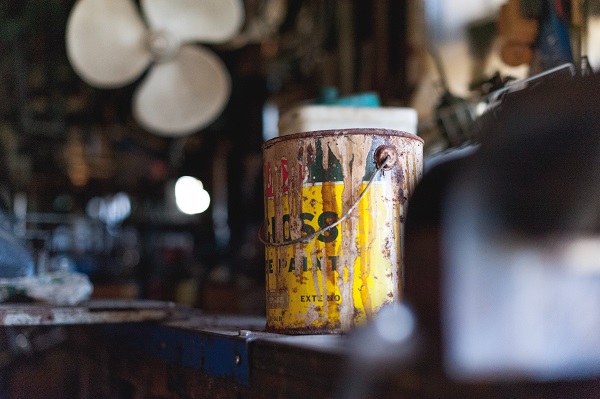 We checked with the Oneida Herkimer Solid Waste Authority (OHSWA) and found out that now is the time to get rid of your household hazardous waste. The Authority will only take your paints, chemicals, and pesticides from April through September.
So we thought this would be a good time to find out more about how to get rid of hazardous household waste while doing your spring cleaning in the garage and cellar.
The Authority has built a Household Hazardous Waste Facility for residents in Oneida and Herkimer Counties. It's located at Leland Avenue and it contains two lockers to store the material. The Authority then arranges disposal with a licensed household hazardous waste disposal contractor.
This keeps these potent chemicals from despoiling our environment. And the number of hazardous products typical of most households is eye-opening. For example, here are some of the types of waste the Authority accepts in addition to the usual paint and cleaning solvents:
Chemistry sets
Drain cleaners
Fertilizers
Furniture stripper
Glues/sealants
Herbicides
Oven cleaners
Photographic chemicals
Polishes
Pool chemicals
Rust preventatives and removers
Wood preservatives
Check the website for the complete list, including items accepted all year long.
Some Tips on Safe Handling of Hazardous Waste
Bring hazardous materials in their original containers if you can. If not, label the materials clearly. But don't bring empty paint cans to the Authority. Put them in the garbage. That also goes for empty cleaner and pesticide containers. They go in the garbage.
This is interesting…don't mix leftover paints in one can. That's because the recycling company sorts the paint by color and type so the paint can be used as a sealer for dry wall or concrete block walls. You can also purchase recycled paints, which makes sense in preserving our environment.
There are some materials that are not accepted by the Authority. These include hardened paint cans, empty paint cans, ammunition, explosives, controlled substances (drugs), empty containers, pharmaceutical wastes, or radioactive wastes.
Also, household alkaline batteries can now be placed in the trash. Since they no longer contain mercury, they aren't as serious a threat to the environment as they used to be.
We hope this article is informative enough to remind you to think of the environment first when doing your spring cleaning this year. But this is only a summary. We highly recommend you visit the OHSWA website to get a more thorough explanation of exactly how you should drop off hazardous waste along with tips on minimizing it and handling it safely.
Hazardous waste disposal is just one of the many valuable services the Solid Waste Authority provides Oneida and Herkimer Counties. Visit their website and find info on recycling and composting along with resources for businesses.
You'll find the latest news on weather and how it affects weekly collections. Also Utica area businesses, schools, and non-profits doing the best job recycling.
So as you clean up this spring, let's keep our Mohawk Valley pristine by properly getting rid of that hazardous material at home.
Until next time,
Your SZW Team
SZW Insurance is your Utica area Trusted Choice™ independent insurance agent. Call us for a quote on insurance for your home, car, business, or life at 315.792.0000. Or request a quote here.