How to Stop Porch Pirates This Holiday Season
December 6, 2022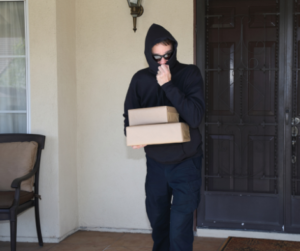 Anyone who works at home knows, UPS, FedEx, and Amazon trucks delivering packages throughout the neighborhood is as common as the postman's daily visit. Especially now during the holiday season in the Mohawk Valley.
The Covid pandemic caused online buying to skyrocket. Covid has thankfully ended as the scourge it was, but online shopping has continued. It's easy, efficient, and makes readily available products from throughout the world.
How popular is online shopping? One study of 2,000 consumers reports that over half receive a package shipped to them every week. (We've heard a joke making the rounds about a UPS driver concerned about a resident's health because he hadn't delivered any packages the last few days.)
But there's a catch to buying online…and that's porch pirates. How bad is this porch pilfering? According to the same study, nearly half of respondents reported to the police that a package had been stolen!
So, pirates on the high seas (porches) are a big problem. What can you do to protect yourself from these petty criminals?
The most popular and probably the best deterrent is a doorbell camera. Motion lights are also effective in scaring off thieves. In store pick up is also an option. As is sending packages to a delivery center.
We found some more clever tricks that we hadn't thought of. An inexpensive example: you can get a "porch pirate bag" that locks to your front door. Ask the delivery people to drop the package inside and close it with the combination lock. You open the bag later on.
You can also get package delivery boxes that you place on the front porch that the deliverer locks up for you.
For Amazon Prime members, In-Garage Delivery Services are available. It looks to us like this is available to our clients here in the Utica area. Check into it by going to your Prime account.
Package Guard is a device that looks like a weight-scale on which you ask your delivery person to place the package. It sounds a loud alarm inside your home if a thief lifts a package off of it.
Finally, full home security systems should include a professional grade doorbell camera. These send immediate alerts to you when anyone approaches your front door. These may also include keyless locks so that you can remotely unlock the door so the delivery driver can place your package inside.
Is Porch Theft Covered on Your Insurance?
The good news is that your homeowner insurance will cover stolen items. The less good news is that the claim would be subject to your deductible. Since you save money on your premium with a higher deductible than you would probably lose from a stolen package, we recommend you keep the higher deductible. So preventing porch theft is one of the best ways to protect yourself from these annoying thieves.
Or, as we recommend to all our clients and friends, shop local! You can get quality products, expert service, and save on shipping by heading over to your local Utica area retailer. You'll also be supporting your community during this busy holiday season.
Until next time,
Your SZW Team
SZW Insurance is your Utica area Trusted Choice™ independent insurance agent. Call us for a quote on insurance for your home, car, business, or life at 315.792.0000. Or request a quote here.