Holiday Cheer at Utica's People First
December 13, 2022
Scalzo, Zogby & Wittig is excited to announce that this year we donated Christmas Cheer to five families from People First (formerly the Municipal Housing Authority). We gave four families gift cards of $550 to $650, depending on the number of kids living in the home. And $200 to one senior citizen.
According to our Casual Day project chair, claims manager Cathy LeTray, People First went all out. But before we get to that, let us explain our Casual Day.
We raise money by collecting $5.00 per month from each employee for the privilege of dressing down on Fridays. Everyone pitches in. Then the pot is topped off with generous contributions from Gary and Steve.
Here's how Cathy LeTray describes the very merry event this year, "Well, another year has come and Scalzo, Zogby & Wittig again joined with People First at the Municipal Housing Authority (MHA) for our Annual Christmas Giveback.
"This year People First put together a Christmas float with Rudolph pulling a sleigh full of happy employees ready to deliver gifts to families. I was privileged to be able to join the employees for the deliveries. This year two of our new account managers, Laurie Kittleman and Sue Hook, joined in on the fun. That's them in our main pic above.
"I'm sorry to say we were not able to ride in the sleigh as we met them on the second half of their journey. But it was awesome to see it coming down the road with Christmas music and cheers from the employees!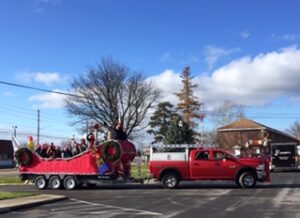 "As we delivered the gifts the residents also enjoyed the festivities as it was a boisterous group cheering and even singing along the way.
"I don't know how they do it but the employees at People First know the residents and their needs and they make sure their Christmas is merry and bright. When the gifts were delivered the residents were each given hugs and told something special.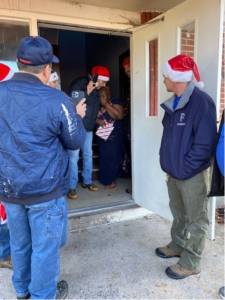 "As we waited for a family to open their door, Executive Director Bob Calli reminded me of one of the first deliveries Scalzo, Zogby & Wittig made to a family years ago.
"We bought their son a bed and when we finished setting it up, the little boy said it was his best Christmas ever because he had never had a bed before. That story reminded me that something we take for granted can be such a life changing event for others.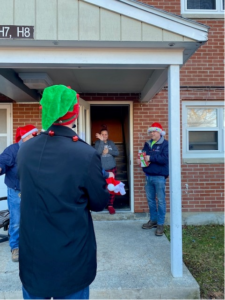 "I can't imagine anyone who was there did not leave with a full heart and a few tears of joy. I'm looking forward to next year already!"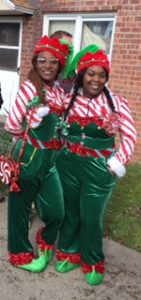 Thanks Cathy for your Christmas cheer and pics of the event.
But we can't help but end with another joyful Christmas thank you. It goes to Bob Calli and all the employees at People First who've made this Christmas very special for all of us here at Scalzo, Zogby & Wittig. May you also have a joyous holiday this year!!
Until next time,
Your SZW Team
SZW Insurance is your Utica area Trusted Choice™ independent insurance agent. Call us for a quote on insurance for your home, car, business, or life at 315.792.0000. Or request a quote here.