How Safe Are Your Children in School Buses?
January 29, 2019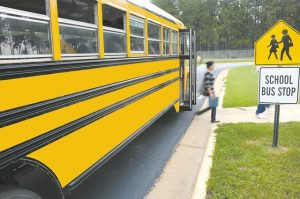 Did you know that a school bus is the safest vehicle on the road? Studies by the National Highway Traffic Safety Administration (NHTSA) find that students taking the bus are close to seventy times more likely to get to school safely than if they rode in a car.
Just one look at the school bus's bright yellow color, flashing lights, cross-view mirrors, and stop-sign arms and you can see why. Not only do these features make our buses super safe, but also New York State laws protect kids while they ride the bus and get on and off.
A school bus also has built in protections in the event of a crash. Busses are heavy vehicles that distribute crash forces differently than cars and light trucks. This means children experience less force in the event of a crash. Children are protected with close seating and energy-absorbing seat backs.
But the accident record for school buses isn't perfect.
School Bus Accidents Do Happen
Another NHTSA study found that from 2007 to 2016, there were 1,282 people killed in school transportation related crashes. That's an average of 128 fatalities per year. Occupants of school transportation vehicles accounted for 9% of the fatalities, while non-occupants—pedestrians, bicyclists, etc.—were 20% of the fatalities. 70% were occupants of other vehicles.
During this same 10 year period, 98 of the deaths were school age pedestrians. Most of these deaths occurred between 6 a.m. and 7 a.m. and from 3 p.m. to 4 p.m. This is why we stress the safety rules below for kids getting on and off the bus.
Common causes of driver related school bus accidents are drunk or drugged driving, drowsy driving, or distracted driving. Buses may also have inadequate maintenance or something unforeseen may go wrong with the engine, steering, or brakes.
How to Keep Your Children Safe In and Around Their School Bus
It turns out that the greatest danger school bus riders face is getting on and off the bus. So we checked in with the NHTSA and the National Safety Council (NSC) for tips that parents and children can use to stay safe during the school year.
School Bus Safety Tips for Parents and Kids
Get to the bus stop at least 5 minutes early. Make sure your younger child knows to stand at least six feet (three giant steps) away from the curb. And remind him/her that this is not a place for horseplay with cars traveling on the road just in front of them.
Have your child wait for the bus to come to a complete stop with the door open before entering. Wait for the driver's okay and use the handrail.
Children should never walk behind a bus. When they walk across the street in front of the bus, they should maintain a distance of around ten feet (five giant steps) in front of the bus before crossing. It's good if the child can always try to make eye contact with the driver while crossing, so they know the driver sees them.
Ask your children not to yell or speak too loudly while the bus is moving so as not to distract the driver.
Children should stay in their seat.
Don't put head, arms, or hands out the window.
Keep aisles clear of books and bags.
Get your stuff together before reaching the stop.
Wait for the bus to completely stop before getting up out of your seat.
After the driver signals your child can cross the street in front of the bus, urge them to still look left, right, then left again before crossing.
The upshot is that the odds of your child getting hurt in a school bus related accident are small. But it's still important to go over the safety rules listed above with your kids, especially any behavior by a child that distracts the bus driver.
We have also seen cars and pickups pass school buses when kids are getting on and off. New York State estimates thousands of school buses are passed illegally every day. The probable cause? Distracted driving. In fact, there is legislation proposed in Albany that would install cameras on school buses to catch offenders.
We expect our schools to be a safe and fulfilling environment for our kids. That includes getting there and back. We urge you to talk to your kids, especially the younger ones, about school bus safety today. And if you're a driver, stay off your cell phone so you'll be alert to any school bus picking up or delivering our school children.
Until next time,
Your SZW Team
SZW Insurance is your Utica area Trusted Choice™ independent insurance agent. Call us for a quote on insurance for your home, car, business, or life at 315.792.0000. Or request a quote here.