On the Road with Kids in Car Seats
February 5, 2019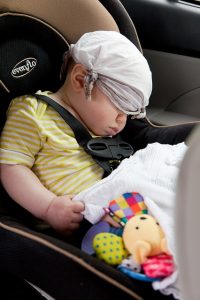 In our last post we talked about children riding the school bus and some tips on keeping them safe. It turned out that school buses are the safest vehicles on the road for kids. Why is that? We've got the answer here.
But what about child safety in passenger cars and pickups? We took a look at the Insurance Institute for Highway Safety (IIHS) to see how safe today's vehicles and drivers are for our kids.
The good news is that when it comes to crashes, children are much safer today than they used to be. The rate of deaths per million children younger than 13 is less than a quarter what is was in 1975.
It's tough to imagine, but anyone growing up in the 1950s and '60s remember never wearing seatbelts. Even in cars that had them, many parent didn't let their kids buckle up, fearing being tied down was more dangerous.
We've come a long way since then, but accidents do happen. According to the IIHS, one of every four unintentional deaths in kids younger than 13 are the result of motor vehicle crashes. Obviously, for this age group most fatalities occur while children are traveling as passengers.
Studies show that restraining children up to age three in rear seats reduces the risk of fatal injury by 75%. For children ages 4 to 8 it's just under 50%.
Impressive numbers. So we decided to look into child safety restraints and New York State's child restraint law. Some of the rules might surprise you.
Child Restraints and New York State Law
From safeny.gov we found that, "All children must be restrained in an appropriate child restraint system while riding in a motor vehicle, until they reach their 8th birthday."
Did you know that kids up to age 8 were required to be in appropriate child restraints? The state has this in bold on their site, so we're guessing that lots of people don't.
There's also a new law effective November 1, 2019. On that date, children under 2 are required to be in a rear-facing child seat or reach the highest weight or height limit allowed by the manufacturer of the car seat.
On reaching the highest weight, the State says, "For babies that outgrow their infant-only car seat, a convertible or 3-in-1 car seat should be used in the rear-facing position until they outgrow the maximum height and weight for the rear-facing position."
There's another question that comes up a lot. Are children required by New York State law to sit in the back seat? The answer is no, but it's highly recommended.
That's because researchers estimate that the chance of injury or death in a motor vehicle accident is reduced by more than 30% if the child is in a child restraint in the back seat.
That should settle the matter for most parents and caregivers…get in the habit of having the kids sit in the back every time.
Here are some links to more information about your children and car seats:
New York State's Occupant Restraint Law
Know for Sure if Your Child is in the Right Car Seat
Child Passenger Safety for Parents and Caregivers
We know how important it is that your kids are safe in the car. We hope this post helps you get it right so that if an accident does happen, your family will be protected.
Your SZW Team
SZW Insurance is your Utica area Trusted Choice™ independent insurance agent. Call us for a quote on insurance for your home, car, business, or life at 315.792.0000. Or request a quote here.