Hike & Bike the Beautiful Mohawk Valley
April 13, 2021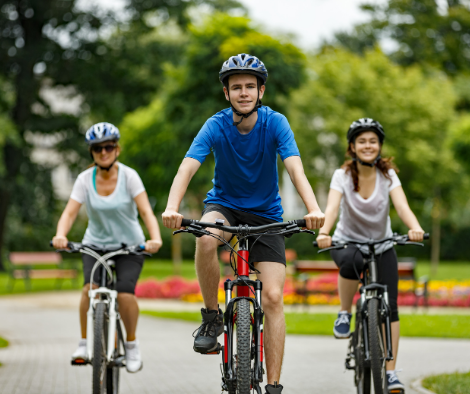 Golf courses are open and many Utica area residents are out walking and biking already. All a bit early this year, but we'll take it!
Our beautiful weather reminded us of a late winter 2020 event. One that has instantly become relevant. That's the opening of the 750-mile Empire State Trail in December. It's a scenic wonder that welcomes bicyclists and hikers to experience New York State's beautiful countryside.
The Mohawk Valley section of the trail is mostly off-road following the Erie Canal. It's not only biking and hiking that's encouraged on the trail. There's picnic areas, campgrounds, overnight lodging in area B&Bs, and breweries and wineries to visit.
We hope you're as excited as we are about getting out and hitting the Empire State Trail. So before walking or riding through that clean fresh air, we suggest you take a look the Trail's website. There are maps and info about not only our own Erie Canalway Trail but also the Hudson Valley Greenway Trail and Champlain Valley Trail.
You might be asking, what about other biking trails here in Central New York? Well, we checked around and here's what we found.
Philip A. Rayhill Memorial Trails
This is the walking/biking trail South that runs alongside Route 840 in New Hartford, Whitestown, and New York Mills. It's flat and 5.22 miles long.
The trail North connects the Whitestown Community Center, Whitestown sidewalk system, and Whitestown Park. It's also 5.22 miles long on an asphalt surface.
Kirkland Trails
Access to this fairly new trail (started in 2018) is along Dugway Road, just off Route 12B in Clinton. At this time, 3 miles is open to the public. The trail connects to the Town of Marshall 3-mile Towpath Trail for a nice, six mile continuous trail.
Town of Marshall Towpath Hike & Bike Trail
Enter this 4.2 mile flat stone dust, grass, and dirt trail at the former O&W Railroad Depot on Route 315 in Deansboro, Burnham Road, Marshall, or Van Hyning Road, Marshall.
The towpath follows Route 12B along the banks of the Oriskany Creek. And at points in the trail trees form a cozy tunnel for hikers to walk through. Very cool!
Mohawk River Trail
The MRT starts at Bellamy Harbor Park in Rome. It continues north along historical sites, commercial districts, schools, city parks, and Griffiss Business and Technology Park. It's 3.97 miles of flat asphalt and offers beautiful views of the Mohawk River.
Bike Thru History
In our past article on bicycle safety we found this gem. It's an ingenious way for bicyclists to experience Central New York's rich history. All the while enjoying the open trails. Itineraries are arranged by historical interests. They include Western Frontier and The Border Wars, Colonial Sites, and Native Americans in the Revolution. There's more and they're all laid out for you with maps and destination descriptions.
And speaking of guides, the Oneida County Tourism bureau offers a free hard copy of the Bicycle & Pedestrian Trail Guide 2019 at the Welcome Center at Union Station or at the entrance to the NYS Thruway Exit 31.
Be Safe Out There!
As independent insurance agents we are always concerned with your safety. So wear a helmet when biking. Obey traffic signs and signals. And make sure your bike has a headlight and rear reflector. Also wear reflective clothing and at night reflective bands, vests, and clothing.
And enjoy the beauty and serenity of nature right here at home in the greater Utica area.
Until next time,
Your SZW Team
SZW Insurance is your Utica area Trusted Choice™ independent insurance agent. Call us for a quote on insurance for your home, car, business, or life at 315.792.0000. Or request a quote here. In Westchester County call Zak Scalzo at 914.246.0315 or email at zaks@szwinsurance.com.