"Mom, Dad, Will You Teach Me To Drive?" 11 Tips for Parents
March 30, 2021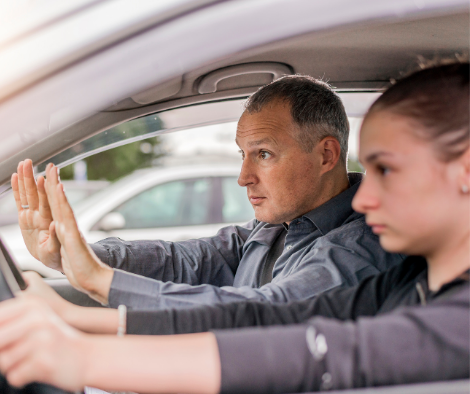 Spring is here! That means Utica area youngsters will be bugging their parents to teach them to drive. And the dangers of winter roads are no longer an excuse to put them off.
So fair warning to parents. There's something frightening about teaching your child to drive. Some parents might go so far as to call it a "hair-raising experience." After all, their son or daughter isn't learning how to hit a baseball. They're driving your big, fast, expensive car!
To help, we thought we'd look around for some tips on how to handle this right of passage for every child…and parent.
Here are some tips we think will help:
As we said above, the good weather brings better roads. (But watch out for the potholes!) And we suggest you practice during the day. It's tough enough for all of us to drive at night or in a rainstorm. So make use of longer days and good spring and summer weather conditions.
Start off in a parking lot. The school lot during the weekend is perfect. There are no cars there and it's big. Practice starts, stops, and turning before moving on to the street.
Give directions way ahead of time. And use known streets and landmarks. Tell your teen they'll be turning right at Elm Street in the next block. They'll be able to concentrate on the street that they already know.
Speaking of turning right, when they do something well, say "correct." Obviously, this eliminates confusion.
Watch on all four sides of the car. Your teen driver hasn't learned that he has to be aware of his surroundings 360 degrees. Until they figure that out, it's your responsibility to concentrate on what's around you.
Instead of barking that they're going to get a speeding ticket if they don't slow down. Say, "What's the speed limit here?" Asking questions is a better way to help them realize they need to be aware of their surroundings.
Know ahead of time where you will be going. And inform your teen of that. Again, starting out in familiar areas makes awareness much easier.
General comments like "You're not paying attention," or "Keep your eye on the road," are better communicated by being specific. For example, "I see you turning the volume on the radio. Let's stay away from that for now." And, "Look ahead and keep yourself in the middle of the lane."
DO NOT BRING YOU CELL PHONE OUT during the session. Turn it off. And turn your teen's phone off. Do not let that phone out while the car is running. Ever. That goes for you when you're driving and your teen is a passenger. If you text and drive your teen also will. And that can lead to disaster.
Watch all of your driving habits. When your children are passengers, drive the speed limit, don't try to beat the yellow light, and only pass when you really have to. Thing is, your faults will become your child's bad driving habits.
Finally, the amount of time per practice session is not as important as the number of times out there. So start off with just 15-20 minutes per session. Let your teen build her confidence as you extend practice times.
We welcome all of our customers' young drivers to the fold. Driving a car is special for teens. It's freedom, convenience, and lots of fun. But it's probably the most dangerous thing they will do while living in your household.
So to all of the Utica area's teen drivers: drive slow, drive safe, and enjoy!
Until next time,
Your SZW Team
SZW Insurance is your Utica area Trusted Choice™ independent insurance agent. Call us for a quote on insurance for your home, car, business, or life at 315.792.0000. Or request a quote here. In Westchester County call Zak Scalzo at 914.246.0315 or email at zaks@szwinsurance.com.