Health Fraud: What's in that Snake Oil?
August 18, 2020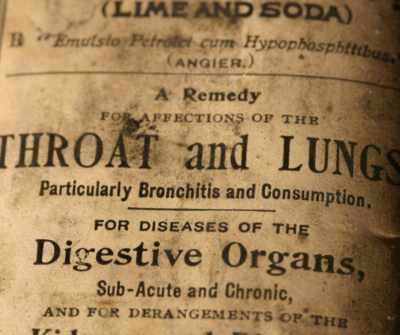 The COVID-19 crisis has everyone talking about what's good for our health. And what's not so good. We'll stay away from the politics of the current situation, but all of this has us thinking.
What is health fraud? How do you protect yourself against health products that aren't as good as their sales pitch?
What about all those ads for:
Weight Loss
Aches
Pains
Sexual Performance
Memory Loss
Age-Related Problems
And ads for more serious illnesses like:
Cancer
Heart Disease
HIV
Alzheimer's
First, health scams are nothing new. Clark Stanley's Snake Oil Liniment was tested in 1916 by the U.S. Bureau of Chemistry. (The precursor to the Food and Drug Administration.) It found the liniment to contain mineral oil, 1% fatty oil assumed to be tallow, capsaicin from chili peppers, turpentine, and camphor. But no snake oil!
We've all seen ads for "Miracle Cures!" They offer people health products that look good but are actually fakes. The least of your problems buying into these frauds is that you lose your money. Worse, some of these products can cause serious issues like pain, suffering, or even death. And they may not mix well with your other medicines.
You may see claims that the product is "natural." But this doesn't mean it's safe. Also be skeptical if it's "easy." If losing weight while you sleep sounds too good to be true, well, you be the judge.
Product advertisers also use the term, "miracle cure," to overstate the product's effectiveness. As if this one pill or elixir will cure all sorts of ailments like cancer, diabetes, AIDS, or arthritis. Be suspicious when you hear of miracle cures.
Ad Copy that Raises Skepticism of Drugs, Supplements, Devices, Treatments, Test Kits
Quick Fix
Quick Cure
Natural Cure
Safe
Safe & Effective
Scientific Breakthrough
Wonder Drug
Cure All
Hope
No-Risk Money-Back Guarantee
100% Safe
Secret Ingredient
Miracle Cure
Amazing Offer
Buy Now
Free Trial
The FDA advises to be smart, be aware, and be careful. If you think that an advertised remedy is your ticket to a cure, you might take it and miss out on a real cure prescribed by a real medical doctor.
The internet is the latest place you'll find products that either don't work or contain harmful ingredients. This includes prescription drugs, steroids, and ingredients not listed on the label.
The upshot: don't take any of the "miracle cures" without speaking first with your healthcare provider. And don't give your Medicare ID# in exchange for a free offer online. That's your personal information and it can be used to steal your identity.
If you have questions about taking any products you see advertised, we suggest you visit the FDA website. You'll find lists of recalls, seizures and injunctions, public notifications and safety alerts. Also information on Cannabis and Cannabis-derived Compound including CBD, opiate abuse, and, of course, the latest in the COVID-19 pandemic.
So be aware, be smart, and stay healthy!
Until next time,
Your SZW Team
SZW Insurance is your Utica area Trusted Choice™ independent insurance agent. Call us for a quote on insurance for your home, car, business, or life at 315.792.0000. Or request a quote here. In Westchester County call Zak Scalzo at 914.246.0315 or email at zaks@szwinsurance.com.