Congrats to Our Utica Area High School Grads: Have Fun & Stay Safe
June 7, 2022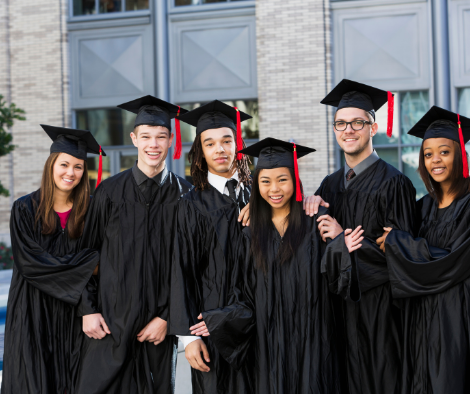 High school graduation season in the Utica area is upon us. It's a wonderful time to recognize our young people's achievements. To reward them for graduating and preparing themselves for the next phase of their lives.
Proud parents invite families and friends to celebrate with the graduates. And since graduations are around the first day of summer, that means lots of backyard parties.
Newly "free" from high school, graduates and their friends tour from party to party. And later on may get together for a few of their own.
The last thing we want to be is a spoilsport. But we're in the insurance business and can't help but be concerned with safety. Especially when it comes to the young people of the Mohawk Valley.
Thing is, kids drive cars during these festive occasions. And the fatal crash rate per mile driven for 16-19 year-olds is nearly three times the rate for drivers ages 20 and over. In more stark terms, that's a total of 2,738 teenagers ages 13-19 dying in motor vehicle crashes in 2020.
And about 2 of every 3 teenagers killed in crashes in 2020 were males. Significantly, 2,159 of those deaths were passengers in the crashes. That's how important it is to emphasize to your grad how dangerous it is to get into a car driven by an irresponsible friend.
With all of this on parents' minds, we thought we'd offer up a few tips as they prepare for the big day.
Talk to your kids about your expectations. Not getting into a car with a drunk driver. Not downing shots of booze. Stay away from drugs. It all seems obvious. But saying it aloud hits home.
Be up to greet them when they get home. Yes, that means you've got to stay up a bit longer than you're used to. Coffee and binge watching will help! But if your grads know you'll be waiting up for them, they're less likely to come staggering in.
Do not rent a motel or hotel room for your kids unsupervised. Enough said.
Encourage local parties. Keep celebrations away from remote areas like the lake or a cabin in the woods.
New York State's Zero Tolerance Law. A driver who is less than 21 years of age and who drives with a .02 BAC (Blood Alcohol Level) to .07 BAC violates the Zero Tolerance Law. That means that it doesn't take much for a teen driver to get a six month suspension of their license. Thus losing some of their new-found freedom.
As we said, our job at Scalzo, Zogby & Wittig, Inc. is not just to help our customers get the right insurance for the best price. But also to encourage safety in our personal and business lives. To this end, if you have a graduate in the family, we encourage you to think about the tips above. Especially to speak with them about having fun without crossing the line.
They have so much to look forward to now that they've successfully graduated high school. Maybe college is their next step. Or entering the workplace.
So, to all of the Utica area grads…please accept our congratulations, have fun, and keep it safe!
Until next time,
Your SZW Team
SZW Insurance is your Utica area Trusted Choice™ independent insurance agent. Call us for a quote on insurance for your home, car, business, or life at 315.792.0000. Or request a quote here.