Boating Safety for Kids
April 9, 2019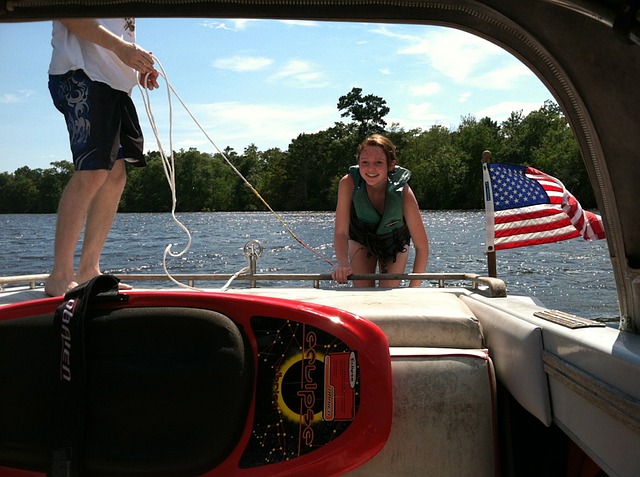 The Adirondacks, Finger Lakes, and Great Lakes make New York State a haven for boating. And closer to home in the Mohawk Valley are Hinckley Lake, Lake Moraine, and Canadarago Lake, where Central New Yorkers enjoy summertime fun.
Boating is most often a family affair, with mom, dad, and the kids all riding our pristine lakes. They've got ski boats, fishing boats, and the ever popular "party barges" for slow, relaxing cruises on a Saturday afternoon.
Since children are a big part of boating fun, we thought we'd put together some tips on how to keep your kids safe in and around your boat. So we checked with Safe Kids Worldwide for their boating safety tips. Here's what we found:
How to Keep Your Kids Safe In and Around the Boat
Kids should always wear a life jacket. Make sure it fits by having the child raise his/her arms up in the air. If the jacket hits their chin or ears, it's too big or the straps are too loose. Don't substitute an approved life jacket with fun swim aids like noodles or water wings. They are just toys and not meant for emergencies.
Babies should not be allowed on the boat until they can wear an approved personal flotation device.
Do not place your baby in a car seat on a boat. If the boat capsizes, the car seat will sink. Hold on to your baby while you also wear a life jacket.
Infants and young children are at higher risk for hypothermia. Keep them warm onboard.
Explain and enforce the rules. Keep hands inside. No running around the boat.
Enroll older kids in a boat safety course. Better yet, you enroll with your child. Studies have shown that parents involved in their kids' safety greatly increase the chances kids will listen and behave properly.
Don't drink and drive a boat! Drinking greatly increases the chance of an accident and there's no excuse when kids are onboard.
Enroll your kids in swim lessons. This is an invaluable skill and your children will forever thank you for taking the time to get them lessons.
Point out how dangerous it is to dive into unknown waters. You're never sure how deep it is or what kinds of debris might be lurking.
What About the Boat Insurance
Your homeowners policy offers very limited coverage on boats. Usually it's no more than $1,000 on the boat itself and there are limitations as to liability coverage. We represent companies with comprehensive hull and liability coverage. But there's more to boat insurance than just the boat and bodily injury/property damage liability.
For example, our companies pay for fuel spill liability, wreckage removal, and towing and assistance reimbursement. And lawsuits resulting from water skiing, tubing, and wake boarding.
Your boat policy also covers boat equipment like anchors, oars, and life jackets along with your fishing equipment and boating sports equipment. Plus items such as binoculars, cameras, cell phones, clothes, sunglasses and more.
You can even get coverage if you're struck by a boater with no insurance or less insurance than you have. So call us to go over the coverages and get a quote. Our rates with boat insurance are good and the coverages give you peace of mind out on the lake.
And be careful with the kids. Be safe, have fun!
Your SZW Team
SZW Insurance is your Utica area Trusted Choice™ independent insurance agent. Call us for a quote on insurance for your home, car, business, or life at 315.792.0000. Or request a quote here.