All About the Easter Bunny
April 4, 2023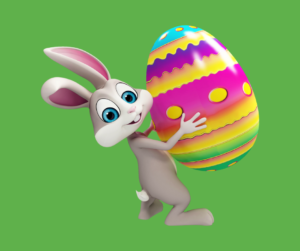 The Easter Bunny is a beloved symbol of Easter, fun and cheerful. It's a reminder of the new life that comes with springtime, and the joy that Easter brings to children and adults alike.
But its origins are somewhat mysterious.
Some believe that it originated in Germany in the 17th century, where it was known as the Osterhase. The Osterhase was said to lay eggs for children on Easter morning. It is thought that it probably arrived in America with German immigrants in the 1700s.
Others believe that the Easter Bunny is a combination of several different pagan symbols. For example, the hare is a symbol of fertility and new life, which are both themes of Easter. The egg is also a symbol of new life, and it is said that eggs were decorated and eaten at ancient celebrations of spring.
The Easter Bunny is often depicted as a rabbit, but it is possible that the original Easter Bunny was a hare. Hares are similar to rabbits, but they are larger and have longer ears. Hares are also known for their ability to hop long distances. Which would make them well-suited for delivering eggs to children on Easter morning!
Whatever its origins, the Easter Bunny has become a popular symbol in many countries around the world. Children leave out baskets for him on Easter Eve, hoping that he will fill them with eggs and other candy. He's also a popular character in Easter parades and other festivities.
Here are some fun "facts" about the Easter Bunny:
The Easter Bunny lives in a burrow in the ground, which is filled with eggs and candy.
It is able to hop very fast, which is how he is able to deliver eggs to all the children on Easter morning.
The Easter Bunny usually wears a white or brown suit with a white or brown hat.
The Easter Bunny delivers a lot of candy on Easter morning.
We wondered how much candy the Easter Bunny actually delivered each year. We came up with the following: 16 billion jelly beans, 90 million chocolate bunnies, and 5.5 million peeps. That's a busy bunny!
And reports are that of 2,000 Americans surveyed, 65% agreed that Easter was the holiday with the best candy. That may be because marshmallow chicks, chocolate bunnies and eggs, and jelly beans are only available once a year. Plus, they taste so good!
So this year, we wish everyone in the Mohawk Valley the happiest of Easters. We hope you have the opportunity to enjoy this time of year with family and friends. And that the fickle Central New York weather will cooperate and give us a nice warm day.
Happy Easter Mohawk Valley!
Until next time,
Your SZW Team
SZW Insurance is your Utica area Trusted Choice™ independent insurance agent. Call us for a quote on insurance for your home, car, business, or life at 315.792.0000. Or request a quote here.